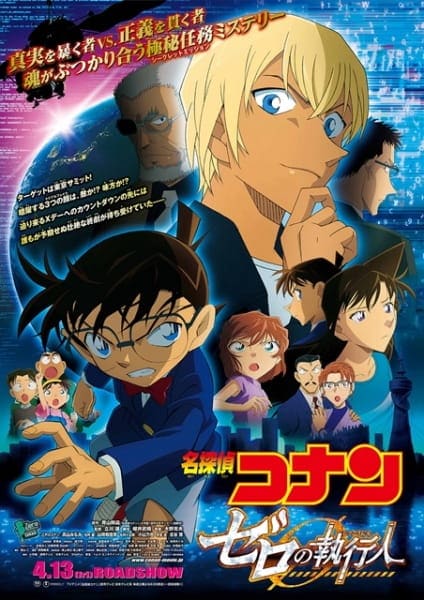 Aired: Apr 13, 2018
Duration: 1 hr. 50 min.
Viewed: 6
Synonyms: Detective Conan Movie 22: Zero The Enforcer
In the film's story, there is a sudden explosion at Tokyo Summit's giant Edge of Ocean facility. The shadow of Tooru Amuro, who works for the National Police Agency Security Bureau as Zero, appears at the site. In addition, the "triple-face" character is known as Rei Furuya as a detective and Kogorou Mouri's apprentice, and he is also known as Bourbon as a Black Organization member. Kogorou is arrested as a suspect in the case of the explosion. Conan conducts an investigation to prove Kogorou's innocence, but Amuro gets in his way. (Source: ANN)
Edogawa, Conan

Main

Mouri, Kogorou

Main

Mouri, Ran

Main

Amuro, Tooru

Main

Yoshida, Ayumi

Supporting

Tsuburaya, Mitsuhiko

Supporting

Takagi, Wataru

Supporting

Tachibana, Kyouko

Supporting

Megure, Juuzou

Supporting

Kusakabe, Makoto

Supporting

Kuroda, Hyoue

Supporting

Kuriyama, Midori

Supporting

Kojima, Genta

Supporting

Kisaki, Eri

Supporting

Kazami, Yuuya

Supporting

Iwai, Sayoko

Supporting

Haibara, Ai

Supporting

Haba, Fumikazu

Supporting

Enomoto, Azusa

Supporting

Agasa, Hiroshi

Supporting
Because we are making use of some free resources to reduce the main server load, the player can be opened on another domain or showed as a new tab (you have to allow pop-up if you're not using Chrome).