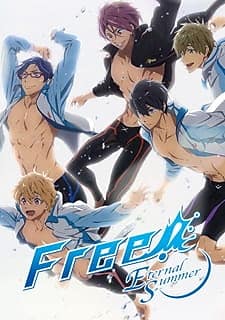 Aired: Jul 3, 2014 to Sep 25, 2014
Duration: 24 min. per ep.
Viewed: 59
Synonyms: Free! - Eternal Summer, Free! - Iwatobi Swim Club 2, Free! 2nd Season, Free!-Eternal Summer-
Even though it has been a year since the Iwatobi High School Swim Club has been created, new members have yet to join the club. Now that Haruka Nanase and Makoto Tachibana are senior students, along with their younger friends Nagisa Hazuki and Rei Ryuugazaki, they have to find a way to attract new members. If not, the club will be forced to close the following year due to a lack of membership. Meanwhile, with impending graduation, it is also time for the seniors to decide their plans for the future. Unlike their friend Rin Matsuoka, the new captain of Samezuka Academy Swim Club who is determined to fulfill his dream of being a professional swimmer, Haruka and Makoto are unsure about what career path they want to take. Further problems arise when an old friend of Rin's, Sousuke Yamazaki, comes to the city to study at Samezuka Academy; the recently scouted swimmer's arrival causes tension in the relationship among him, Rin, and Haruka. [Written by MAL Rewrite]
Hazuki, Nagisa

Main

Matsuoka, Rin

Main

Nanase, Haruka

Main

Ryuugazaki, Rei

Main

Tachibana, Makoto

Main

Yamazaki, Sousuke

Main

Amakata, Miho

Supporting

Hanamura, Chigusa

Supporting

Iwashimizu, Tooru

Supporting

Lori

Supporting

Matsuoka, Gou

Supporting

Mikoshiba, Seijuurou

Supporting

Mikoshiba, Momotarou

Supporting

Minami, Kazuki

Supporting

Nakagawa, Shouta

Supporting

Nitori, Aiichirou

Supporting

Russell

Supporting

Sasabe, Gorou

Supporting

Sera, Tadanori

Supporting

Shigino, Kisumi

Supporting
Comming soon!!! But still, you're very handsome.
Please comment for requesting this anime.