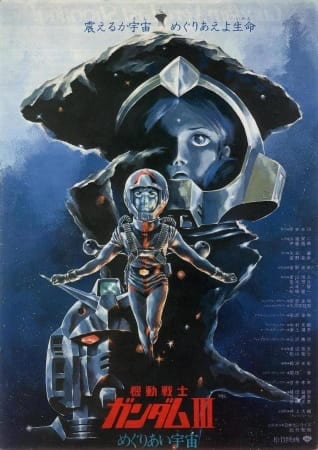 Aired: Mar 13, 1982
Duration: 2 hr. 20 min.
Viewed: 99
Synonyms: Mobile Suit Gundam III: Encounters in Space
The One Year War comes to a close, as the Zeon forces now retreat back into space. Amuro learns much more of his Newtype abilities and tries to use them the best way he can. He's pushed to his limit as he encounters the infamous Char Aznable once again. He also falls in love with a mysterious woman named Lalah Sune, who knows the full potential of the Newtype abilities. The greatest battle is about to begin, as many loved ones fall to the power of war. Can the Earth Federation defeat the Principality of Zeon? Or will they fail? Can Char prove that he's the better Newtype than Amuro? They all will be answered now... (Source: Otakufreakmk2)
Ray, Amuro

Main

Aznable, Char

Main

Mulligan

Supporting

Zabi, Zenna

Supporting

Narrator

Supporting

Noa, Bright

Supporting

Ray, Tem

Supporting

Revil, Johann Abraham

Supporting

Shiden, Kai

Supporting

Sune, Lalah

Supporting

Tokwan

Supporting

Twanning

Supporting

Wakkein, Admiral

Supporting

Yashima, Mirai

Supporting

Zabi, Mineva Lao

Supporting

Zabi, Degwin Sodo

Supporting

Zabi, Kycilia

Supporting

Zabi, Dozle

Supporting

Zabi, Gihren

Supporting

Eschonbach, Icelina

Supporting
Because we are making use of some free resources to reduce the main server load, the player can be opened on another domain or showed as a new tab (you have to allow pop-up if you're not using Chrome).