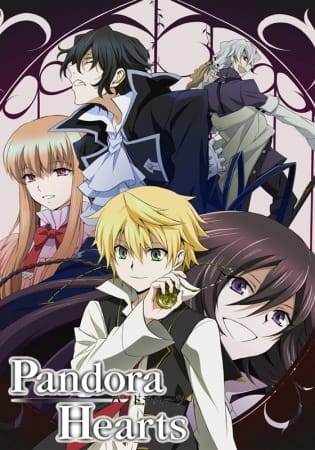 Aired: Apr 3, 2009 to Sep 25, 2009
Duration: 24 min. per ep.
Viewed: 92
Synonyms: PandoraHearts, Pandora Hearts, パンドラハーツ
To young Oz Vessalius, heir to the Vessalius Duke House, the perilous world called the Abyss is nothing more than a folktale used to scare misbehaving children. However, when Oz's coming-of-age ceremony is interrupted by the malicious Baskerville Clan intent on banishing him into the depths of the Abyss, the Vessalius heir realizes that his peaceful life of luxury is at its end. Now, he must confront the world of the Abyss and its dwellers, the monstrous "Chains," which are both not quite as fake as he once believed. Based on the supernatural fantasy manga of the same name, Pandora Hearts tells the story of fifteen-year-old Oz's journey to discover the meaning behind the strange events that have overtaken his life. Assisted by a mysterious Chain named Alice, whose nickname is "Bloodstained Black Rabbit," and members of a clandestine organization known as "Pandora," Oz begins to realize his existence may have more meaning than he could have ever imagined. [Written by MAL Rewrite]
Break, Xerxes

Main

Nightray, Gilbert

Main

Rainsworth, Sharon

Main

Vessalius, Oz

Main

Alice

Main

Will of the Abyss

Supporting

West, Phillipe

Supporting

Vessalius, Oscar

Supporting

Vessalius, Zai

Supporting

Vessalius, Ada

Supporting

Vessalius, Jack

Supporting

Sinclair, Florence

Supporting

Nightray, Vincent

Supporting

Nightray, Elliot

Supporting

Lunettes, Reim

Supporting

Leo

Supporting

Fang

Supporting

Equus

Supporting

Emily

Supporting

Echo

Supporting
Comming soon!!! But still, you're very handsome.
Please comment for requesting this anime.