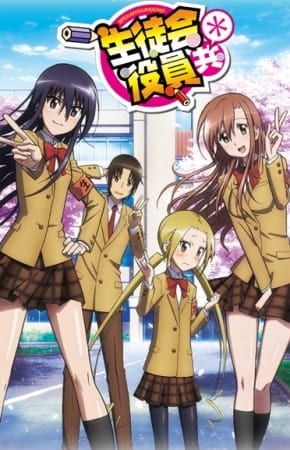 Aired: Jan 4, 2014 to Mar 30, 2014
Duration: 23 min. per ep.
Viewed: 12
Synonyms: Seitokai Yakuindomo 2, SYD*, 生徒会役員共*
They say that the more things change, the more they stay the same, and those words could not be more true for the student council of Ousai Private Academy. Though an entire year has passed—bringing the senior members to their final year of high school—not much has changed. President Shino Amakusa is just as perverted as ever, Secretary Aria Shichijou still refuses to put on a pair of panties, Treasurer Suzu Hagimura has yet to grow an inch, and Vice President Takatoshi Tsuda is still stuck as the straight man to their crazy antics. Of course, limiting the fun to a four-way might get a little stale; although the group still messes around with the Judo Club and the Newspaper Club, more girls have come to get in on the excitement. Takatoshi's sister Kotomi, a new student at Ousai, is as perverse as the president, while Uomi, the aloof student council president of the nearby Eiryou High School, fits right in with the insanity at Ousai. With loads of absurdity and sexual humor that keeps on coming, Takatoshi needs to harden up if he is going to keep up with all the madness around him. [Written by MAL Rewrite]
Hagimura, Suzu

Main

Shichijou, Aria

Main

Tsuda, Takatoshi

Main

Amakusa, Shino

Main

Yokoshima, Naruko

Supporting

Yanagimoto, Kenji

Supporting

Uomi, Chihiro

Supporting

Umibe, Nanako

Supporting

Tsuda, Kotomi

Supporting

Toki, Kaoru

Supporting

Todoroki, Nene

Supporting

Nakazato, Chiri

Supporting

Mitsuba, Mutsumi

Supporting

Michishita

Supporting

Igarashi, Kaede

Supporting

Hata, Ranko

Supporting

Hagimura, Mother

Supporting

Furuya

Supporting

Dejima, Sayaka

Supporting

Daimon

Supporting
Comming soon!!! But still, you're very handsome.
Please comment for requesting this anime.