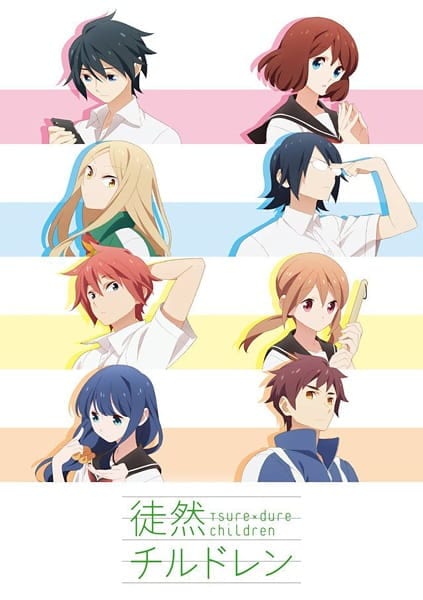 Aired: Jul 4, 2017 to Sep 19, 2017
Duration: 12 min. per ep.
Viewed: 102
Synonyms: Tsurezure Children
Young love—it takes many unique and fascinating forms that flourish as children begin to mature into adults. From being unable to confess to not knowing what real love actually feels like, various obstacles can arise when learning about romantic attraction for the first time. But underneath all that, young love is something truly beautiful to behold, leading to brand new experiences for those young and in love. Tsurezure Children depicts various scenarios of young love coming to fruition, along with the struggles and joys that it entails. [Written by MAL Rewrite]
Furuya, Jun

Main

Akagi, Masafumi

Main

Takano, Chizuru

Main

Sugawara, Takurou

Main

Sasahara, Satsuki

Main

Minagawa, Yuki

Main

Katori, Shinichi

Main

Kamine, Ayaka

Main

Kaji, Ryouko

Main

Ijima, Kana

Main

Hosogawa, Kazuko

Main

Gouda, Takeru

Main

Yukawa, Hideki

Supporting

Yamane, Takao

Supporting

Uchimura, Chiaki

Supporting

Uchimura, Keiko

Supporting

Tsuji, Keisuke

Supporting

Takase, Haruhiko

Supporting

Shibasaki, Erika

Supporting

Noro, Akimasa

Supporting
Because we are making use of some free resources to reduce the main server load, the player can be opened on another domain or showed as a new tab (you have to allow pop-up if you're not using Chrome).