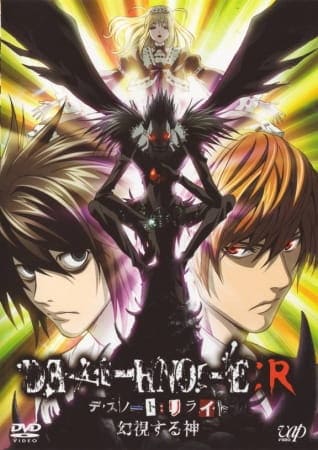 Aired: Aug 31, 2007 to Aug 22, 2008
Duration: 1 hr. 52 min. per ep.
Viewed: 40
Synonyms: Death Note: Relight, Death Note Director's Cut: The Complete Ending Edition Special, Death Note Special, Genshisuru Kami, Visions of a God, L o Tsugu Mono, L's Successors, ディレクターズカット完全決着版 〜リライト
1. Genshisuru Kami (Visions of a God) A two hour episode of Death Note, mainly a compilation of the confrontations between Light and L, re-edited from Ryuk's perspective with new dialogue and soundtrack along with additional animation that could not be included in the original series. An Unnamed Shinigami comes to Ryuk to question him about his new story in the human world. 2. L o Tsugu Mono (L's Successors) This story continues where the previous left off, continuing the story of Light. As the previous special told Light and L's battles, this story does the same with the conflicts between Light, Mello, and Near. (Source: Wikipedia)
Lawliet, L

Main

Ryuk

Main

Yagami, Light

Main

Aizawa, Shuuichi

Supporting

Amane, Misa

Supporting

Bullook, Halle

Supporting

Carter, Anthony

Supporting

Darlingbin, Carl

Supporting

Higuchi, Kyousuke

Supporting

Jealous

Supporting

Jeevas, Mail

Supporting

Keehl, Mihael

Supporting

Kenwood, Mary

Supporting

Matsuda, Touta

Supporting

Mikami, Teru

Supporting

Misora, Naomi

Supporting

Mogi, Kanzou

Supporting

Penber, Raye

Supporting

Rem

Supporting

River, Nate

Supporting
Comming soon!!! But still, you're very handsome.
Please comment for requesting this anime.