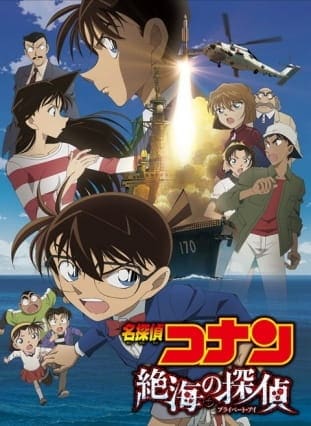 Aired: Apr 20, 2013
Duration: 1 hr. 50 min.
Viewed: 7
Synonyms: Detective Conan Movie 17: Private Eye in the Distant Sea
The movie is set on a state-of-the art Aegis vessel with the full cooperation of Japan's real-life Ministry of Defense and Maritime Self-Defense Force. The corpse of a Self-Defense Force member has been found—minus the left arm—and a spy has infiltrated the Aegis vessel. The heroine Ran is put in jeopardy, and Conan is forced to stand up against the dangerous Spy "X." (Source: ANN)
Fujii, Nanami

Main

Mouri, Kogorou

Main

Mouri, Ran

Main

Edogawa, Conan

Main

Yoshida, Ayumi

Supporting

X

Supporting

Tsuburaya, Mitsuhiko

Supporting

Tooyama, Kazuha

Supporting

Tooyama, Ginshirou

Supporting

Tateishi, Yukio

Supporting

Takekawa

Supporting

Takagi, Wataru

Supporting

Suzuki, Sonoko

Supporting

Sekiguchi, Makoto

Supporting

Satou, Miwako

Supporting

Sasaura, Yousuke

Supporting

Ootaki, Gorou

Supporting

Munekawa, Tsutomu

Supporting

Megure, Juuzou

Supporting

Kurumazaki

Supporting
Because we are making use of some free resources to reduce the main server load, the player can be opened on another domain or showed as a new tab (you have to allow pop-up if you're not using Chrome).