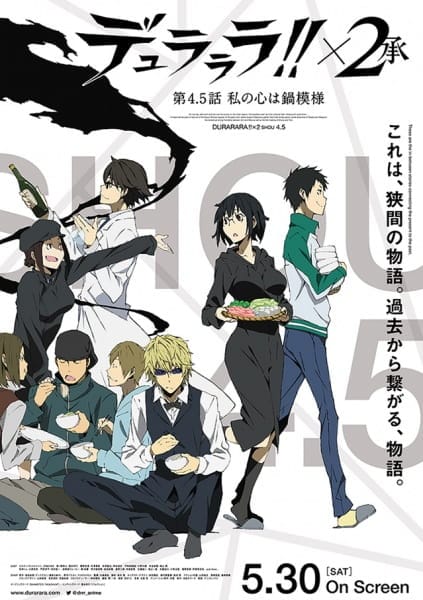 Aired: Jul 22, 2015
Duration: 23 min.
Viewed: 4
Synonyms: Durarara!! x2 Shou: My Heart Is in the Pattern of a Hot Pot, Durarara!!x2 Shou OVA, Durarara!!x2 Shou Special, Durarara!!x2 Shou Episode 4.5, デュラララ!!×2 承 第4.5話「私の心は鍋模様」
One night, Mikado Ryuugamine accepts an invitation to Shinra Kishitani's apartment, eager to talk to Celty as quite some time has passed since the two last spoke. But, much to his astonishment, he finds that a large group of Ikebukuro's finest has gathered there for a hot pot party. Already confused with the current situation, Mikado is further surprised to see that his friend and fellow Raira Academy student Anri Sonohara is there as well. As the two decide to take a seat together, a few members of the group begin reminiscing over events from days past: Mikado recalls an adventure from his childhood with Masaomi Kida, Anri explains how she came to be friends with Mika Harima, and Shizuo Heiwajima tells of his first meeting with Tom Tanaka. [Written by MAL Rewrite]
Heiwajima, Shizuo

Main

Kida, Masaomi

Main

Kishitani, Shinra

Main

Orihara, Izaya

Main

Ryuugamine, Mikado

Main

Sonohara, Anri

Main

Sturluson, Celty

Main

Harima, Mika

Supporting

Kadota, Kyouhei

Supporting

Karisawa, Erika

Supporting

Tanaka, Tom

Supporting

Togusa, Saburou

Supporting

Yagiri, Namie

Supporting

Yagiri, Seiji

Supporting

Yumasaki, Walker

Supporting
Comming soon!!! But still, you're very handsome.
Please comment for requesting this anime.