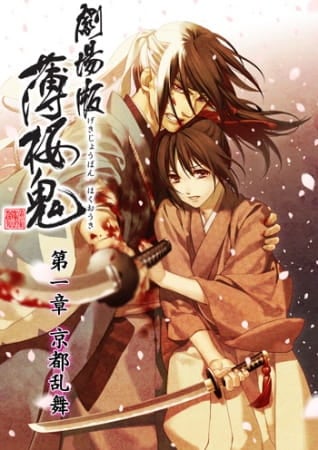 Aired: Aug 24, 2013
Duration: 1 hr. 35 min.
Viewed: 8
Synonyms: Hakuoki ~Demon of the Fleeting Blossom~ Wild Dance of Kyoto, Hakuoki Movie 1, Hakuouki Shinsengumi Kitan Movie 1, Hakuoki: Wild Dance of Kyoto, 劇場版 薄桜鬼 第一章 京都乱舞
Chizuru Yukimura has come to Kyoto looking for her father, a doctor who has gone missing. While there, she witnesses a fight between an Oni and the Shinsengumi. Taking her into custody, the Shinsengumi debates on what to do with Chizuru, when they discover that she is the daughter of the doctor for whom they are also looking. The Shinsengumi then take Chizuru along on their search after the missing doctor, from adventure to adventure. (Source: ANN)
Harada, Sanosuke

Main

Hijikata, Toshizou

Main

Nagakura, Shinpachi

Main

Okita, Souji

Main

Saitou, Hajime

Main

Toudou, Heisuke

Main

Yukimura, Chizuru

Main

Amagiri, Kyuujuu

Supporting

Inoue, Genzaburou

Supporting

Itou, Kashitarou

Supporting

Kazama, Chikage

Supporting

Kondou, Isami

Supporting

Nagumo, Kaoru

Supporting

Sannan, Keisuke

Supporting

Shimada, Kai

Supporting

Shiranui, Kyou

Supporting

Yamazaki, Susumu

Supporting

Yukimura, Koudou

Supporting
Comming soon!!! But still, you're very handsome.
Please comment for requesting this anime.