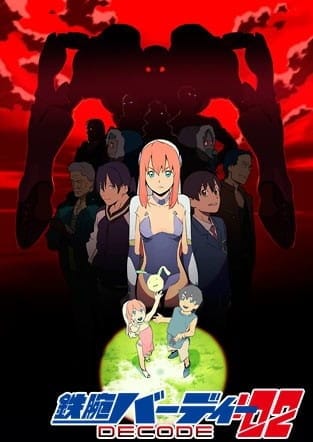 Aired: Jan 10, 2009 to Mar 28, 2009
Duration: 23 min. per ep.
Viewed: 5
Synonyms: Birdy the Mighty: Decode 02, Tetsuwan Birdy Decode 2nd Season, 鉄腕バーディー DECODE:02
Following the Ryunka disaster, Tokyo is left in a period of social turmoil. To make matters worse, the group of aliens directly responsible for the catastrophic event have escaped from the Space Federation and are hiding on Earth. Still sharing a body, Space Federation officer Birdy Cephon Altera, and high schooler, Tsutomu Senkawa, are tasked with capturing the fugitives and bringing them to justice. However, an unexpected crisis develops when the outlaws become targets of an unknown assassin with a vendetta. Now Birdy must deal with the chaos of everyday life and also uncover the identity of the assassin before more escapees fall victim. [Written by MAL Rewrite]
Senkawa, Tsutomu

Main

Shinmyou, Nataru

Main

Altera, Birdy Cephon

Main

Muroto, Keisuke

Supporting

Violin

Supporting

Nakasugi, Sayaka

Supporting

Nigua, Valik

Supporting

Revi, Christella

Supporting

Sanada, Kaori

Supporting

Scherzo

Supporting

Senkawa, Hazumi

Supporting

Shinmyou, Dusk

Supporting

Sudou, Ryota

Supporting

Takumi

Supporting

Thetis, Capella

Supporting

Tura, Agrazume

Supporting

Tuto

Supporting

Megius

Supporting

Masakubo

Supporting

Marina

Supporting
Comming soon!!! But still, you're very handsome.
Please comment for requesting this anime.