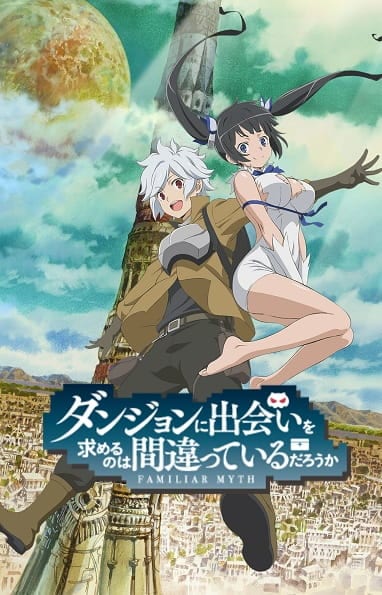 Aired: Apr 4, 2015 to Jun 27, 2015
Duration: 24 min. per ep.
Viewed: 39
Synonyms: Is It Wrong to Try to Pick Up Girls in a Dungeon?, DanMachi, Is It Wrong That I Want to Meet You in a Dungeon, ダンジョンに出会いを求めるのは間違っているだろうか
Life in the bustling city of Orario is never dull, especially for Bell Cranel, a naïve young man who hopes to become the greatest adventurer in the land. After a chance encounter with the lonely goddess, Hestia, his dreams become a little closer to reality. With her support, Bell embarks on a fantastic quest as he ventures deep within the city's monster-filled catacombs, known only as the "Dungeon." Death lurks around every corner in the cavernous depths of this terrifying labyrinth, and a mysterious power moves amidst the shadows. Even on the surface, survival is a hard-earned privilege. Indeed, nothing is ever certain in a world where gods and humans live and work together, especially when they often struggle to get along. One thing is for sure, though: a myriad of blunders, triumphs and friendships awaits the dauntlessly optimistic protagonist of this herculean tale. [Written by MAL Rewrite]
Hestia

Main

Cranel, Bell

Main

Miach

Supporting

Hiryute, Tiona

Supporting

Ottarl

Supporting

Takemikazuchi

Supporting

Tulle, Eina

Supporting

Viridis, Lefiya

Supporting

Wallenstein, Ais

Supporting

Soma

Supporting

Loki

Supporting

Loga, Bete

Supporting

Lion, Ryuu

Supporting

Laysh, Ged

Supporting

Latro, Mord

Supporting

Landrock, Gareth

Supporting

Kashima, Ouka

Supporting

Hitachi, Chigusa

Supporting

Hiryute, Tione

Supporting

Yamato, Mikoto

Supporting
Comming soon!!! But still, you're very handsome.
Please comment for requesting this anime.