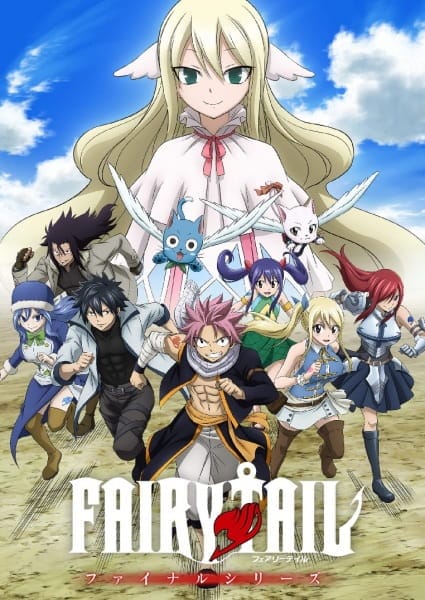 Aired: Oct 7, 2018 to Sep 29, 2019
Duration: 23 min. per ep.
Viewed: 24
Synonyms: Fairy Tail Final Series, Fairy Tail Season 3, Fairy Tail (2018), FAIRY TAIL ファイナルシリーズ
Although Fairy Tail has been disbanded and its members are now spread far across Fiore, Natsu Dragneel hasn't given up on reuniting the guild he and others once called home. Along with his companions Happy and Lucy Heartfilia, he will stop at nothing to keep Fairy Tail and its fiery spirit alive even as they face their most difficult trial yet—the invasion of Fiore by the Alvarez Empire's immense army and their all-too-familiar ruler. [Written by MAL Rewrite]
Dragneel, Natsu

Main

Fullbuster, Gray

Main

Happy

Main

Heartfilia, Lucy

Main

Marvell, Wendy

Main

Scarlet, Erza

Main

Charlés

Main

Midnight

Supporting

Plue

Supporting

Mikazuchi, Kagura

Supporting

Milkovich, Ultear

Supporting

Millianna

Supporting

Mine, Wakaba

Supporting

Mulan, Bisca

Supporting

Nanagear, Orga

Supporting

Orland, Minerva

Supporting

Kinana

Supporting

Pantherlily

Supporting

Orochi Head

Supporting

Nekis, Jura

Supporting
Comming soon!!! But still, you're very handsome.
Please comment for requesting this anime.