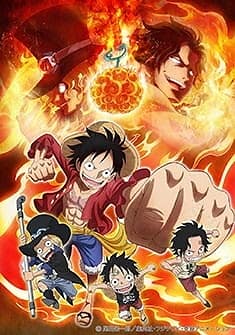 Aired: Aug 22, 2015
Duration: 1 hr. 46 min.
Viewed: 12
Synonyms: One Piece: Episode of Sabo - 3 Kyoudai no Kizuna Kiseki no Saikai to Uketsugareru Ishi
The special will revisit the childhood past of the three sworn brothers Luffy, Ace, and Sabo, when they all dreamed of becoming pirates. In addition, it will depict how Sabo originally came into the kingdom of Dressrosa (which was not depicted in Eiichiro Oda's original manga or the television anime), as well as his reunion with Luffy from his point of view.
Because we are making use of some free resources to reduce the main server load, the player can be opened on another domain or showed as a new tab (you have to allow pop-up if you're not using Chrome).