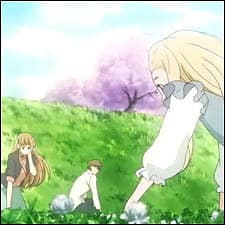 Aired: Dec 23, 2005 to Feb 24, 2006
Duration: 22 min. per ep.
Viewed: 3
Synonyms: Honey and Clover Specials, Honey & Clover Specials, ハチミツとクローバー
Two side stories: Chapter L (or chapter 25) about Lohmeyer/Romaiya senpai. Chapter F (or chapter 26) about Miwako finding ways to make fun of Yamazaki. (Source: momento)
Lohmeyer

Main

Mayama, Takumi

Main

Nomiya, Takumi

Main

Takemoto, Yuuta

Main

Teshigawara, Miwako

Main

Yamazaki, Kazushi

Main

Hanamoto, Shuuji

Supporting

Hanamoto, Hagumi

Supporting

Harada, Rika

Supporting

Leader

Supporting

Morita, Shinobu

Supporting

Yamada, Ayumi

Supporting
Comming soon!!! But still, you're very handsome.
Please comment for requesting this anime.