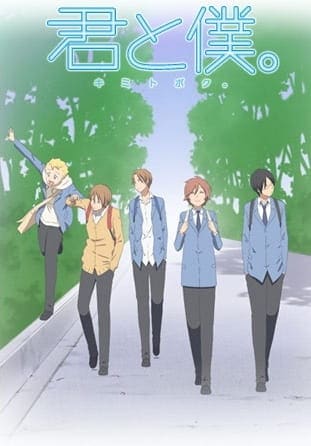 Aired: Oct 4, 2011 to Dec 27, 2011
Duration: 24 min. per ep.
Viewed: 177
Synonyms: Kimi to Boku.
The high school students in Kimi to Boku. consider their school life to be anything but exciting. A repetitive journey through classes, arguments, and orientations for future careers that seem way too distant. But with the right group of friends, time can be made to move a little faster. Four high school boys, who have known each other since childhood, hang out together in school every day. There's the handsome twins Yuuki and Yuuta Asaba, the gentle Shun Matsuoka, and the calm class head Kaname Tsukahara. Although they have become used to a lack of excitement in their lives, the addition of a new transfer student, Chizuru Tachibana, who is half German and half Japanese, may add a little more adventure to their routine. With his energetic personality and stories from a distant country, Chizuru may be able to light up the dull atmosphere of the group.
Asaba, Yuuki

Main

Matsuoka, Shun

Main

Tachibana, Chizuru

Main

Tsukahara, Kaname

Main

Asaba, Yuuta

Main

Tsukahara, Yoko

Supporting

Takahashi, Rina

Supporting

Satou, Masaki

Supporting

Sakura, Kayo

Supporting

Matsushita, Ryuunosuke

Supporting

Matsuoka, Fuyuki

Supporting

Mamiya, Kyouko

Supporting

Kaori

Supporting

Azuma, Kouichi

Supporting

Akira

Supporting

Aida, Hisako

Supporting

Aida, Shizuna

Supporting
Because we are making use of some free resources to reduce the main server load, the player can be opened on another domain or showed as a new tab (you have to allow pop-up if you're not using Chrome).