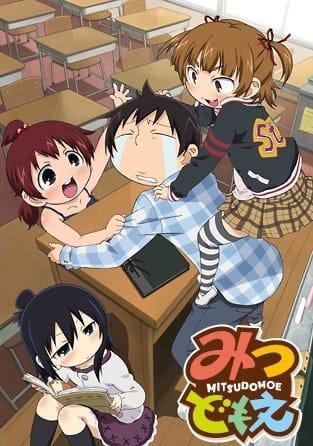 Aired: Jul 3, 2010 to Sep 26, 2010
Duration: 24 min. per ep.
Viewed: 280
Synonyms: Mitsudomoe
The 11-year-old Marui triplets could not be any more different. The oldest one, Mitsuba, is sadistic and kind of mature for her age. The middle one, Futaba, is perverted and very athletic and has the strength of a full-grown man. The youngest one, Hitoha, is generally very quiet and gentle but when push comes to shove, she might just be the strongest, the most perverted and the most sadistic out of the three. The three are all in the same class, led by the newly graduated teacher Yabe Satoshi. He usually gets pushed around by the girls and, on occasion, abused but the triplets also try to lead him and the new school nurse, the clumsy Kuriyama Aiko, together. However, Yabe had no intention of dating Aiko and the methods the triplets use to accomplish their goal are highly unorthodox...
Marui, Hitoha

Main

Marui, Futaba

Main

Yabe, Satoshi

Main

Marui, Mitsuba

Main

Yoshioka, Yuki

Supporting

Yoshioka, Saeko

Supporting

Sugisaki, Ryuuta

Supporting

Sugisaki, Miku

Supporting

Sugisaki, Marina

Supporting

Satou, Akari

Supporting

Satou, Shinya

Supporting

Ogata, Airi

Supporting

Miyashita

Supporting

Mitsumine, Megu

Supporting

Matsuoka, Sakiko

Supporting

Marui, Soujirou

Supporting

Kuriyama, Aiko

Supporting

Katou, Mayumi

Supporting

Itou, Shiori

Supporting

Chikubi

Supporting
Because we are making use of some free resources to reduce the main server load, the player can be opened on another domain or showed as a new tab (you have to allow pop-up if you're not using Chrome).