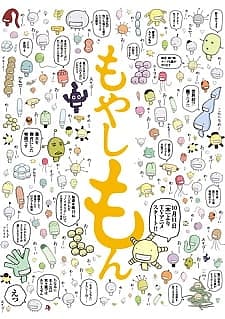 Aired: Oct 12, 2007 to Dec 21, 2007
Duration: 23 min. per ep.
Viewed: 169
Synonyms: Moyashimon
Enter Tadayasu, a freshman college student who can see and talk to cute, chibi bacteria and other microscopic organisms. It's not all fun and games like it sounds, though, because it gets him into all sorts of trouble. Join Tadayasu as he enters his first year at the Agriculture University. What crazy events await him?
Itsuki, Keizou

Main

Sawaki, Tadayasu

Main

Yuuki, Kei

Main

Hasegawa, Haruka

Main

Yuuki, Grandfather

Supporting

Trichophyton rubrum

Supporting

Sawaki, Grandfather

Supporting

Saccharomyces cerevisiae

Supporting

Ryuuta

Supporting

Penicillium chrysogenum

Supporting

Oikawa, Hazuki

Supporting

Mutou, Aoi

Supporting

Misato, Kaoru

Supporting

Malassezia furfur

Supporting

Lactococcus lactis

Supporting

Lactobacillus jugurti

Supporting

Kawahama, Takuma

Supporting

Influenza virus

Supporting

Hiyoshi, Tomoharu

Supporting

Hiyoshi, Kikuchi

Supporting
Because we are making use of some free resources to reduce the main server load, the player can be opened on another domain or showed as a new tab (you have to allow pop-up if you're not using Chrome).