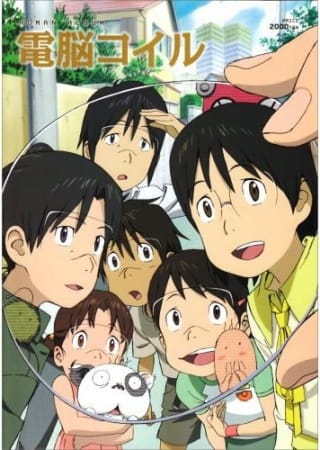 Aired: May 12, 2007 to Dec 1, 2007
Duration: 25 min. per ep.
Viewed: 14
Synonyms: Dennou Coil
In the near future, augmented reality has become a key part of daily life. A gentle middle school girl named Yuuko "Yasako" Okonogi and her family have just moved to Daikoku City despite rumors of people disappearing. There, her grandmother, nicknamed "Mega-baa," runs a shop called Megasia that specializes in illegal tools which interact with parts of the virtual world. Mega-baa also hosts an unofficial detective agency called "Coil," a group of children around Yasako's age who find and handle corruption of the virtual world. Yasako gets involved with the group when Fumie Hashimoto, a playful member of Coil, helps rescue her cyberdog Densuke after getting trapped in virtual space while chasing a mysterious virus. Also investigating these corruptions and viruses is an abrasive hacker named Yuuko Amasawa, who the others take to calling Isako. Can Coil discover the truths behind the mysterious viruses and corruption, and if they can, at what cost? [Written by MAL Rewrite]
Harakawa, Kenichi

Main

Hashimoto, Fumie

Main

Okonogi, Yuuko

Main

Sawaguchi, Daichi

Main

Amasawa, Yuuko

Main

Sacchi

Supporting

Oyaji

Supporting

Okonogi, Suzue

Supporting

Okonogi, Ichiro

Supporting

Okonogi, Kyoko

Supporting

Nekome, Sousuke

Supporting

Nekome, Takeru

Supporting

Namekawa

Supporting

Mojos

Supporting

Megabaa

Supporting

Hashimoto, Akira

Supporting

Harakawa, Tamako

Supporting

Gachagiri

Supporting

Densuke

Supporting

Denpa

Supporting
Because we are making use of some free resources to reduce the main server load, the player can be opened on another domain or showed as a new tab (you have to allow pop-up if you're not using Chrome).