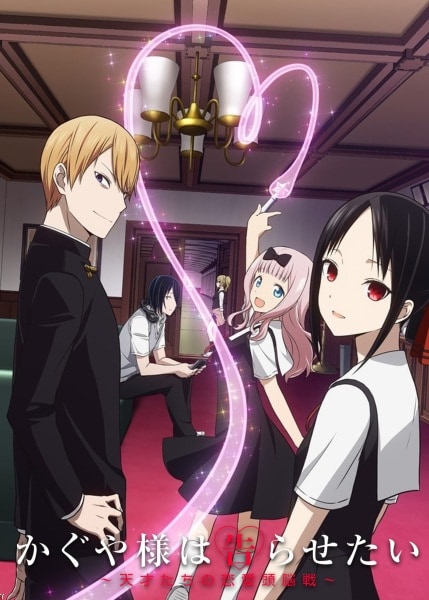 Aired: Jan 12, 2019 to Mar 30, 2019
Duration: 25 min. per ep.
Viewed: 327
Synonyms: Kaguya-sama: Love is War, Kaguya Wants to be Confessed To: The Geniuses' War of Love and Brains, かぐや様は告らせたい~天才たちの恋愛頭脳戦~
At the renowned Shuchiin Academy, Miyuki Shirogane and Kaguya Shinomiya are the student body's top representatives. Ranked the top student in the nation and respected by peers and mentors alike, Miyuki serves as the student council president. Alongside him, the vice president Kaguya—eldest daughter of the wealthy Shinomiya family—excels in every field imaginable. They are the envy of the entire student body, regarded as the perfect couple. However, despite both having already developed feelings for the other, neither are willing to admit them. The first to confess loses, will be looked down upon, and will be considered the lesser. With their honor and pride at stake, Miyuki and Kaguya are both equally determined to be the one to emerge victorious on the battlefield of love! [Written by MAL Rewrite]
Fujiwara, Chika

Main

Ishigami, Yuu

Main

Shinomiya, Kaguya

Main

Shirogane, Miyuki

Main

Beltoise, Betsy

Supporting

Fujiwara, Toyomi

Supporting

Fujiwara, Moeha

Supporting

Hayasaka, Ai

Supporting

Kashiwagi, Nagisa

Supporting

Miki

Supporting

Narrator

Supporting

Shirogane, Kei

Supporting

Shirogane no Chichi

Supporting

Tsubasa

Supporting
Comming soon!!! But still, you're very handsome.
Please comment for requesting this anime.