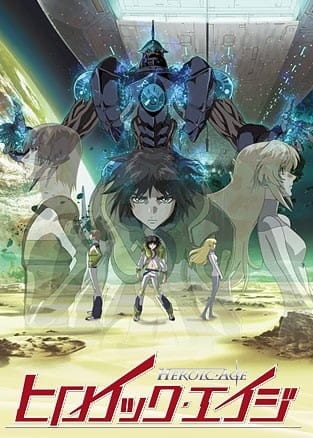 Aired: Apr 2, 2007 to Oct 1, 2007
Duration: 23 min. per ep.
Viewed: 370
Synonyms: Heroic Age
When the Golden Race invited other races to join them in the stars, three sentient races answered their call. The Goldens called them the Bronze, Silver and Heroic Tribes. Just before the Gold Tribe left to travel to another Universe, a fourth race appeared, traveling to the stars on their own accomplishments. The Golds named the human race the Iron Tribe. During the passing of time, humanity suffers at the hands of the more dominant races and is now facing extinction. Following a prophecy left by the Gold Tribe, Princess Deianeira sets out to search for the powerful being who might be able to save humankind. She meets a wild haired boy on an abandoned planet—a fateful encounter that will not only change the fortunes of Humanity, but also the fate of the universe. (Source: AniDB)
Yunos, Dhianeila Y Leisha Altoria Ol

Main

Age

Main

Yunos, Meleagros E Leisha Altria Oz

Supporting

Yunos, Atalantes Az

Supporting

Rucan, Karkinos

Supporting

Ro, Romu

Supporting

Ou, Prome

Supporting

Ou, Paeto

Supporting

Nephew, Nilval

Supporting

Mehelim, Iolaous Oz

Supporting

Mehelim, Tail Ol

Supporting

Mehelim, Mail Al

Supporting

Mehelim, Mobeedo Oz

Supporting

Megarla, Anesha Ol

Supporting

Leku, Lecty

Supporting

La, Yuty

Supporting

Bore, Mehitak

Supporting

Bee no bee

Supporting
Because we are making use of some free resources to reduce the main server load, the player can be opened on another domain or showed as a new tab (you have to allow pop-up if you're not using Chrome).