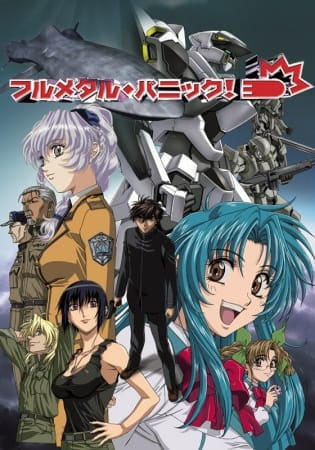 Aired: Jan 8, 2002 to Jun 18, 2002
Duration: 24 min. per ep.
Viewed: 596
Synonyms: Full Metal Panic
Equipped with cutting-edge weaponry and specialized troops, a private military organization named Mithril strives to extinguish the world's terrorism and all threats to peace on earth. The organization is powered by the "Whispered," individuals who possess intuitive knowledge and the remarkable ability to create powerful devices and machinery. Seventeen-year-old Sousuke Sagara, a sergeant working for Mithril, has been assigned to protect Kaname Chidori, a Whispered candidate. He is ordered to join her high school class and be as close to her as possible to prevent her from falling into enemy hands—that is, if he can safely blend in with their fellow classmates without revealing his true identity. Sousuke, who was raised on a battlefield and has very little knowledge of an average high school student's lifestyle, must adapt to a normal school life to safeguard Kaname. However, enemy forces have already begun making their move, and Sousuke is about to find out that the adversary coming for the Whispered girl may be a lot more familiar than he expects. [Written by MAL Rewrite]
Sagara, Sousuke

Main

Testarossa, Teletha

Main

Chidori, Kaname

Main

Zaied

Supporting

Wiseman, Grace

Supporting

Weber, Kurz

Supporting

Tokiwa, Kyouko

Supporting

Takenaka, Marcy

Supporting

Seina

Supporting

Mardukas, Richard Henry

Supporting

Mao, Melissa

Supporting

Lemming, Nora

Supporting

Kugayama, Takuma

Supporting

Kudan, Mira

Supporting

Kazama, Shinji

Supporting

Kalinin, Andrei Sergeivich

Supporting

Kagurazaka, Eri

Supporting

Inaba, Mizuki

Supporting

Gauron

Supporting

AL

Supporting
Because we are making use of some free resources to reduce the main server load, the player can be opened on another domain or showed as a new tab (you have to allow pop-up if you're not using Chrome).