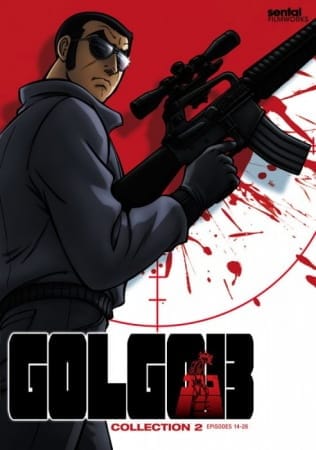 Golgo 13 is not his real name. Then again, neither is Duke Togo, Tadashi Togo, or any number of the aliases he goes by. A man of mystery, not even the world's most prominent intelligence agencies can determine who Golgo really is, or just where he came from. But all agree that his skills are nothing short of legendary. Armed with a custom M16, Golgo is willing to take any job for any agency, from the FBI to the KGB. He has completed every contract he has ever taken and will work for anyone who can meet his price. He is both the greatest weapon and the greatest threat to any nation; no one is safe once they are in Golgo's sights.
Aired: Apr 12, 2008 to Mar 28, 2009
Duration: 24 min. per ep.
Synonyms: Golgo 13, ゴルゴ13
Togo, Duke

Main

Kaiser

Supporting

Steinbeck III, Alphonse Louis

Supporting

Sheriff

Supporting

Ricky

Supporting

Renault, Andre

Supporting

Regan

Supporting

Queen Cybele

Supporting

Quaid, Jake

Supporting

Perriand, Sara

Supporting

O'Brien, Marty

Supporting

Nikolavitch, Ledell

Supporting

Mikhail

Supporting

Mccartney, Dave

Supporting

Linda

Supporting

Krugman, Eva

Supporting

Jack

Supporting

Hume

Supporting

Howard, Michael

Supporting

Frank

Supporting
Because we are making use of some free resources to reduce the main server load, the player can be opened on another domain or showed as a new tab (you have to allow pop-up if you're not using Chrome).