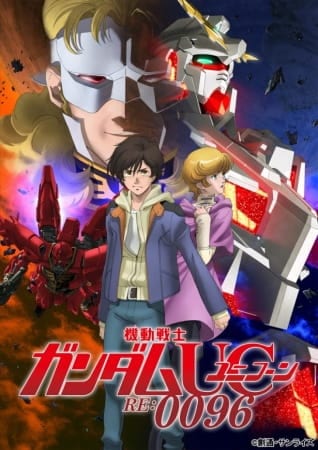 Aired: Apr 3, 2016 to Sep 11, 2016
Duration: 23 min. per ep.
Viewed: 125
Synonyms: Mobile Suit Gundam Unicorn RE:0096
By the year 0096 of the Universal Century, a fragile peace emerges from the ashes of conflict. Sixteen-year-old student Banagher Links visits the Industrial 7 space colony on a school field trip, but because of a broken shuttle, he is left completely stranded. To Banagher, who has always lived a normal life, war had always been a distant, almost mythical part of history; but within minutes, fantasy becomes reality when he rescues a girl named Audrey Burne, who urgently needs to meet with the leader of the nearby Vist Foundation, Cardeas Vist. She hopes to persuade him to withhold the "Laplace's Box," an object that holds the potential to destroy the world. History is set in motion as galactic forces converge on Industrial 7, each vying for possession of the Laplace's Box. As Neo Zeon remnants clash with Earth Federation Forces around the colony, Cardeas, in his final moments, gives Banagher the key to the Box, a mobile suit dubbed "The Unicorn Gundam." Packed with explosive action and rising tension, Mobile Suit Gundam Unicorn RE:0096 follows Banagher as his conviction is tested and the destiny that has laid dormant for more than a century is finally realized. [Written by MAL Rewrite]
Links, Banagher

Main

Zabi, Mineva Lao

Main

Frontal, Full

Main

Vist, Syam

Supporting

Marco

Supporting

Tom

Supporting

Vist, Alberto

Supporting

Tomura

Supporting

Vist, Cardeas

Supporting

Sauper, Angelo

Supporting

Sant, Gilboa

Supporting

Sant, Tikva

Supporting

Sant, Wife

Supporting

Omoki, Sydow

Supporting

Oiwakken, Mihiro

Supporting

Noa, Bright

Supporting

Mitas, Otto

Supporting

Meran

Supporting

McGuinness, Daryl

Supporting

Zinnerman, Suberoa

Supporting
Because we are making use of some free resources to reduce the main server load, the player can be opened on another domain or showed as a new tab (you have to allow pop-up if you're not using Chrome).