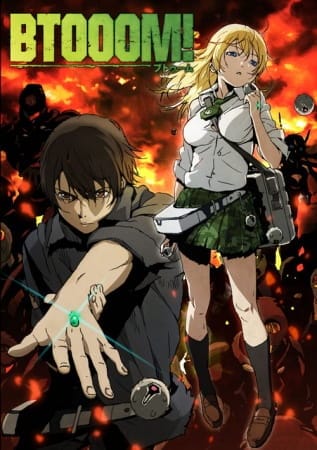 Aired: Oct 4, 2012 to Dec 20, 2012
Duration: 24 min. per ep.
Viewed: 462
Synonyms: Btooom!
Ryouta Sakamoto is unemployed and lives with his mother, his only real achievement being that he is Japan's top player of the popular online video game Btooom! However, his peaceful life is about to change when he finds himself stranded on an island in the middle of nowhere, with a small green crystal embedded in his left hand and no memory of how he got there. To his shock, someone has decided to recreate the game he is so fond of in real life, with the stakes being life or death. Armed with a bag full of unique bombs known as "BIM," the players are tasked with killing seven of their fellow participants and taking their green crystals in order to return home. Initially condemning any form of violence, Ryouta is forced to fight when he realizes that many of the other players are not as welcoming as they may seem. Teaming up with Himiko, a fellow Btooom! player, they attempt to get off of the island together, coming closer and closer to the truth behind this contest of death. [Written by MAL Rewrite]
Sakamoto, Ryouta

Main

Himiko

Main

Yuki

Supporting

Yoshioka

Supporting

Takanohashi

Supporting

Taira, Yuzuhiko

Supporting

Taira, Kiyoshi

Supporting

Serizawa, Aiko

Supporting

Sakamoto, Yukie

Supporting

Sakamoto, Hisanobu

Supporting

Oda, Nobutaka

Supporting

Natsume, Souichi

Supporting

Murasaki, Shiki

Supporting

Miyamoto, Masashi

Supporting

Miho

Supporting

Kondou, Isamu

Supporting

Kira, Yoshihisa

Supporting

Kira, Kousuke

Supporting

Kinoshita, Hidemi

Supporting

Iwakura, Tomoaki

Supporting
Because we are making use of some free resources to reduce the main server load, the player can be opened on another domain or showed as a new tab (you have to allow pop-up if you're not using Chrome).