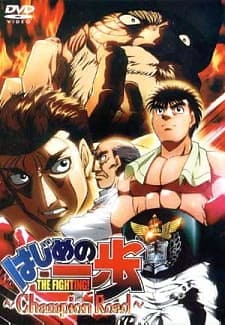 Aired: Apr 18, 2003
Duration: 1 hr. 30 min.
Viewed: 14
Synonyms: Fighting Spirit: Champion Road, The First Step - Champion Road, はじめの一歩 -Champion Road-
The challenger has become the champion as Ippo Makunouchi now wears the featherweight championship belt of Japan. Some time has passed since Ippo's victory, and he has found his friends and coach as supportive as ever; his crush, Kumi Mashiba, seems to enjoy spending time with him as well. Things are looking bright for the new champion, but just as he once set his sights on becoming the best, his first challenger poses an intimidating threat. Kazuki Sanada works as a doctor at the same hospital as Kumi and fights strategically. Known for integrating his knowledge of the human body into his fights, Sanada is a fearsome contender—however, more unnerving than his physical ability, he has garnered the support of the nurses. Despite being the champion, Ippo feels the pressure as he must face the daunting challenge, retain his belt, and win over the girl he loves. [Written by MAL Rewrite]
Kamogawa, Genji

Main

Makunouchi, Ippo

Main

Sanada, Kazuki

Main

Takamura, Mamoru

Main

Hama, Dankichi

Main

Yagi, Haruhiko

Supporting

Umezawa, Masahiko

Supporting

Tomiko

Supporting

Sendo, Takeshi

Supporting

Nekota, Ginpachi

Supporting

Miyata, Ichirou

Supporting

Mashiba, Ryo

Supporting

Mashiba, Kumi

Supporting

Makunouchi, Hiroko

Supporting

Kimura, Tatsuya

Supporting

Iimura, Mari

Supporting

Fujii, Minoru

Supporting

Commentator

Supporting

Aoki, Masaru

Supporting
Comming soon!!! But still, you're very handsome.
Please comment for requesting this anime.