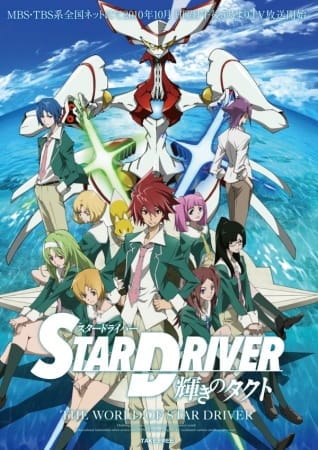 Aired: Oct 3, 2010 to Apr 3, 2011
Duration: 25 min. per ep.
Viewed: 204
Synonyms: Star Driver
Deep beneath the surface of Southern Cross Isle, a mysterious organization known as the Glittering Crux Brigade frequently gathers in their underground fortress. The group is particularly interested in "Cybodies," stone giants which can transform into massive fighting humanoids but only in a realm known as "Zero Time." By finding and shattering the seals of the island's four seal maidens, Glittering Crux hopes to break free of Zero Time and use the Cybodies anywhere they please. One night, a young man named Takuto Tsunashi washes up on the island's shore and is rescued by Sugata Shindou and his fiancée Wako Agemaki, one of the island's seal maidens. After he awakens, Takuto quickly befriends the two and proceeds to enroll at the local academy, where many of his fellow students are secretly members of Glittering Crux. However, Takuto holds a secret: when in Zero Time, he can utilize a Cybody of his own—the Tauburn. In the forthcoming battle, Takuto and the Tauburn will be the key to preventing Glittering Crux from shattering Wako's seal and realizing its nefarious ambitions. [Written by MAL Rewrite]
Shindou, Sugata

Main

Tsunashi, Takuto

Main

Agemaki, Wako

Main

Nichi, Keito

Supporting

You, Fujino

Supporting

Nichi, Goshiki

Supporting

Nishimori

Supporting

Okada, Hana

Supporting

Okamoto, Midori

Supporting

Ryou, Ginta

Supporting

Shibuya, Hideki

Supporting

Shinada, Benio

Supporting

Sora

Supporting

Sugatame, Tiger

Supporting

Takumi, Takeo

Supporting

Tsunashi, Ikurou

Supporting

Watanabe, Kanako

Supporting

Yamasugata, Jaguar

Supporting

Yano, Mami

Supporting

You, Marino

Supporting
Because we are making use of some free resources to reduce the main server load, the player can be opened on another domain or showed as a new tab (you have to allow pop-up if you're not using Chrome).