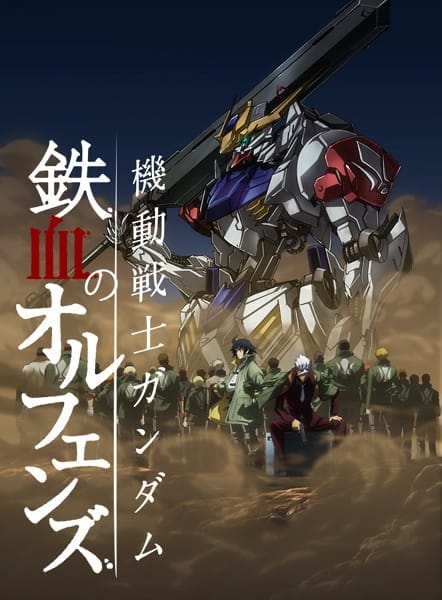 Aired: Oct 2, 2016 to Apr 2, 2017
Duration: 24 min. per ep.
Viewed: 181
Synonyms: Mobile Suit Gundam: Iron-Blooded Orphans 2nd Season
Tekkadan has now become a direct affiliate of Teiwaz after procuring a new trade agreement with Arbrau. With its newfound funds and prestige, Tekkadan finds both its list of allies and enemies growing. Meanwhile, the flames of the Gjallarhorn power struggle continue to rage in full force. As a part of her efforts to make Mars financially independent from Earth, Kudelia Aina Bernstein founds the Admoss Company and enlists Tekkadan as her business partner. The stakes are getting higher as the Tekkadan family continues to grow. Will Orga, Mikazuki, and the rest of the Tekkadan faction be able to keep up, or will Kudelia's dream of Martian independence die out? [Written by MAL Rewrite]
Itsuka, Orga

Main

Augus, Mikazuki

Main

Uno, Takaki

Supporting

Juris, Julieta

Supporting

Uhay, Dean

Supporting

Turbine, Naze

Supporting

Reuters, Sandoval

Supporting

Qujan, Ioq

Supporting

Proto, Arae

Supporting

Pretzel, Sakura

Supporting

Mossa, Galan

Supporting

Mogro, Dante

Supporting

Mixta, Atra

Supporting

Mirconen, Todo

Supporting

Midey, Hash

Supporting

Mass, Ride

Supporting

Makanai, Togonosuke

Supporting

Lilot, Radich

Supporting

Kassapa, Nadi Yukinojou

Supporting

Vidar

Supporting
Because we are making use of some free resources to reduce the main server load, the player can be opened on another domain or showed as a new tab (you have to allow pop-up if you're not using Chrome).