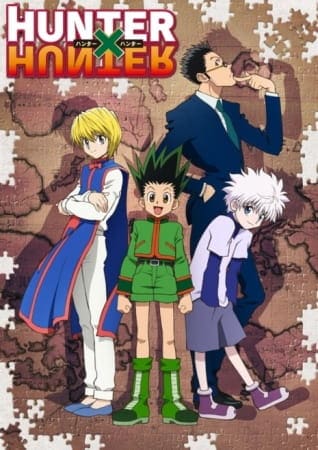 Aired: Oct 2, 2011 to Sep 24, 2014
Duration: 23 min. per ep.
Viewed: 54013
Synonyms: Hunter X Hunter 2011
Hunter x Hunter is set in a world where Hunters exist to perform all manner of dangerous tasks like capturing criminals and bravely searching for lost treasures in uncharted territories. Twelve-year-old Gon Freecss is determined to become the best Hunter possible in hopes of finding his father, who was a Hunter himself and had long ago abandoned his young son. However, Gon soon realizes the path to achieving his goals is far more challenging than he could have ever imagined. Along the way to becoming an official Hunter, Gon befriends the lively doctor-in-training Leorio, vengeful Kurapika, and rebellious ex-assassin Killua. To attain their own goals and desires, together the four of them take the Hunter Exam, notorious for its low success rate and high probability of death. Throughout their journey, Gon and his friends embark on an adventure that puts them through many hardships and struggles. They will meet a plethora of monsters, creatures, and characters—all while learning what being a Hunter truly means. [Written by MAL Rewrite]
Kurapika

Main

Paladiknight, Leorio

Main

Zoldyck, Killua

Main

Freecss, Gon

Main

Nana, Mizaistom

Supporting

Rammot

Supporting

Narrator

Supporting

Ndongo, Bonolenov

Supporting

Neferpitou

Supporting

Netero, Isaac

Supporting

Neutral, Teradein

Supporting

Nickes

Supporting

Nicolas

Supporting

No. 0

Supporting

Nostrade, Neon

Supporting

Nostrade, Light

Supporting

Ponzu

Supporting

Pohtoh, Feitan

Supporting

Pokkle

Supporting

Piyon

Supporting
Because we are making use of some free resources to reduce the main server load, the player can be opened on another domain or showed as a new tab (you have to allow pop-up if you're not using Chrome).