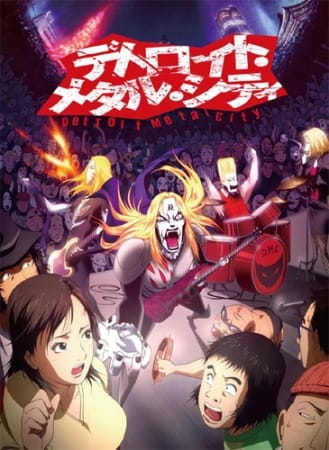 Aired: Aug 8, 2008 to Oct 28, 2008
Duration: 13 min. per ep.
Viewed: 16
Synonyms: Detroit Metal City
Dominating the world of indie music, Detroit Metal City (DMC) is a popular death metal band known for its captivatingly dark and crude style. Its extravagant lead singer, Johannes Krauser II, is especially infamous as a demonic being who has risen from the fiery pits of hell itself in order to bring the world to its knees and lord over all mortals—or at least that's what he's publicized to be. Unbeknownst to his many worshippers, Krauser II is just the alter ego of an average college graduate named Souichi Negishi. Although he is soft-spoken, peace-loving, and would rather listen to Swedish pop all day, he must participate in DMC's garish concerts in order to make ends meet. Detroit Metal City chronicles Negishi's hilarious misadventures as he attempts to juggle his hectic band life, a seemingly budding romance, and dealing with his incredibly obsessive and dedicated fans. [Written by MAL Rewrite]
Negishi, Souichi

Main

Negishi, Tomoko

Supporting

Yamano, Hanae

Supporting

Wada, Masayuki

Supporting

Uemura

Supporting

Sawai Sperman, Takeshi

Supporting

Saji, Hideki

Supporting

Nishida, Terumichi

Supporting

Nina

Supporting

Ngaire Bothalabardos, Rosard

Supporting

Negishi, Toshihiko

Supporting

Negishi, Keiko

Supporting

Nashimoto, Keisuke

Supporting

Krauser-tan

Supporting

Kibayashi, Susumu

Supporting

ILL Dark, Jack

Supporting

Hokazono, Makoto

Supporting

Hidetaka, Asato

Supporting

Fukatsu, Ryouta

Supporting

DMC Fan

Supporting
Because we are making use of some free resources to reduce the main server load, the player can be opened on another domain or showed as a new tab (you have to allow pop-up if you're not using Chrome).