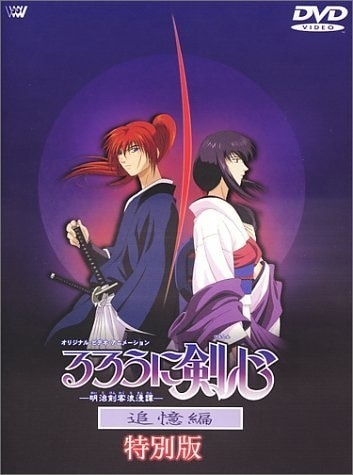 Aired: Feb 20, 1999 to Sep 22, 1999
Duration: 30 min. per ep.
Viewed: 76
Synonyms: Samurai X: Trust & Betrayal OVA
When mankind's savagery surpasses his fear of death, there is little hope for those who wish to live honest lives. Beneath a full moon, a young boy witnesses the murder of the bandits who had enslaved him, and is then christened with a new name by the man who rescued him. This boy is Shinta, now known as Kenshin Himura, and he is destined to become a swordsman. The softness of his heart does not befit the occupation, but his desire to protect the innocent is absolute. Rurouni Kenshin: Meiji Kenkaku Romantan - Tsuioku-hen details the origins of the man who would bear the name of Hitokiri Battousai long before he swore his oath not to kill and before he earned his reputation as an assassin. The young man's heart is divided between justice and corruption, while the fate of a nation rests on his actions. [Written by MAL Rewrite]
Himura, Kenshin

Main

Yukishiro, Tomoe

Main

Hijikata, Toshizo

Supporting

Hiko, Seijuurou

Supporting

I'izuka

Supporting

Katsura, Kogoro

Supporting

Kondou, Isami

Supporting

Okita, Souji

Supporting

Saitou, Hajime

Supporting

Shishio, Makoto

Supporting

Takasugi, Shinsaku

Supporting

Tatsumi

Supporting

Yatsume, Mumyoui

Supporting

Yukishiro, Enishi

Supporting
Because we are making use of some free resources to reduce the main server load, the player can be opened on another domain or showed as a new tab (you have to allow pop-up if you're not using Chrome).