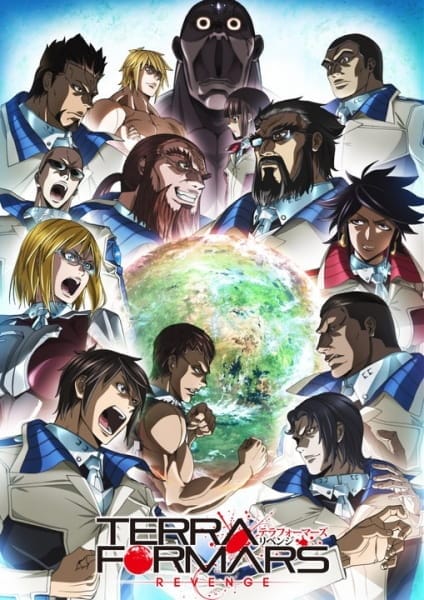 Aired: Apr 2, 2016 to Jun 25, 2016
Duration: 24 min. per ep.
Viewed: 211
Synonyms: Terra Formars Revenge
In Terra Formars Revenge, the crew members of the Annex I continue to fight against Terraformars—the large humanoid cockroaches that evolved from the ones sent to Mars centuries ago. However, far from discovering the cure for the lethal Alien Engine Virus that has been plaguing Earth, the Annex I team have learned that some squadrons have agendas from their own countries. Now, the squadrons must not only fight against the Terraformars for their survival, but also each other in the never-ending battle for international dominance. [Written by MAL Rewrite]
Davis, Michelle K.

Main

Hizamaru, Akari

Main

Komachi, Shoukichi

Main

Asimov, Sylvester

Main

Minamoto, Yuriko

Supporting

Yujik, Aaron

Supporting

Narrator

Supporting

Newton, Joseph Gustav

Supporting

Onizuka, Keiji

Supporting

Perepelkin, Ivan

Supporting

Politkovskaya, Anastasia Andreevna

Supporting

Redfield, Wolf

Supporting

Reinhardt, Adolf

Supporting

Sanjou, Kanako

Supporting

Venkatesh, Amelia

Supporting

Xi, Chunli

Supporting

Yanasegawa, Yaeko

Supporting

Yujik, Nina

Supporting

Liu, Yiwu

Supporting

Kandley Stewart, Alex

Supporting
Because we are making use of some free resources to reduce the main server load, the player can be opened on another domain or showed as a new tab (you have to allow pop-up if you're not using Chrome).