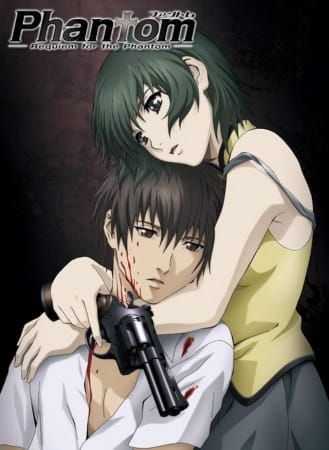 Aired: Apr 3, 2009 to Sep 25, 2009
Duration: 24 min. per ep.
Viewed: 39
Synonyms: Phantom Requiem for the Phantom
Mafia is rife in America where assassinations are a regular occurrence on the streets. Inferno, a mysterious company, is behind most of these dealings through the use of their near-invincible human weapon, "Phantom." One day, a Japanese tourist accidentally witnesses Phantom's latest murder. Desperate to escape, the tourist hides in a secluded building. However, Phantom, revealed to be a young woman named Ein, and the leader of Inferno "Scythe Master" captures the tourist and brainwashes him. Given the name "Zwei," this once peaceful tourist is now a puppet of Inferno with no memories. Drawn into a world of lies, deceit, and violence, Zwei must fight to survive, hopefully to one day regain his memories and escape from this world where he is constantly on the brink of death. [Written by MAL Rewrite]
Ein

Main

Zwei

Main

Devens, Cal

Main

Wisemel, Issac

Supporting

Weber, Randy

Supporting

Wallace

Supporting

von Giuseppe, Helmut

Supporting

Stone, Duke

Supporting

Stone, Eva

Supporting

Stone, Tony

Supporting

Shiga, Tooru

Supporting

Motegi, Atsushi

Supporting

McGuire, Raymond

Supporting

McCunnen, Claudia

Supporting

Kubota, Sanae

Supporting

Inada, Hirono

Supporting

Harrington, Richard

Supporting

Godo, Kaiten

Supporting

Godo, Daisuke

Supporting

Garland, Lizzie

Supporting
Because we are making use of some free resources to reduce the main server load, the player can be opened on another domain or showed as a new tab (you have to allow pop-up if you're not using Chrome).