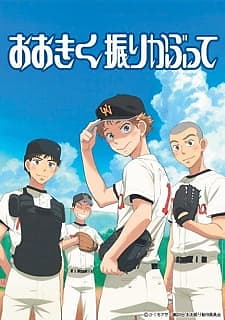 Aired: Apr 13, 2007 to Sep 28, 2007
Duration: 25 min. per ep.
Viewed: 86
Synonyms: Ookiku Furikabutte – Big Windup!
Ren Mihashi was the ace of his middle school's baseball team, but due to his poor pitching, they could never win. Constant losses eventually lead to his teammates bullying him and reached the point where his teammates no longer tried to win, causing Mihashi to graduate with little self-esteem. As a result, Mihashi decides to go to a high school in a different prefecture where he has no intention of playing baseball. Unfortunately, upon his arrival at Nishiura High, he is dragged into joining their new team as the starting pitcher. Although unwilling at first, Mihashi realizes that this is a place where he will be accepted for who he is; with help from the catcher Takaya Abe, he starts to have more confidence in his own abilities. Abe, seeing the potential in Mihashi, makes it a goal to help him become a pitcher worthy of being called an ace. [Written by MAL Rewrite]
Mihashi, Ren

Main

Abe, Takaya

Main

Umehara, Keisuke

Supporting

Mizutani, Fumiki

Supporting

Tajima, Grandfather

Supporting

Tajima, Yuuichirou

Supporting

Tajima, Miwako

Supporting

Takase, Junta

Supporting

Shiga, Tsuyoshi

Supporting

Shiba, Yuuki

Supporting

Sakaeguchi, Yuuto

Supporting

Ookawa, Hironori

Supporting

Oki, Kazutoshi

Supporting

Oki, Kumiko

Supporting

Oda, Hiroyuki

Supporting

Nishihiro, Kazumi

Supporting

Nishihiro, Shintarou

Supporting

Nakazawa, Riou

Supporting

Momoe, Maria

Supporting

Yoshi

Supporting
Because we are making use of some free resources to reduce the main server load, the player can be opened on another domain or showed as a new tab (you have to allow pop-up if you're not using Chrome).