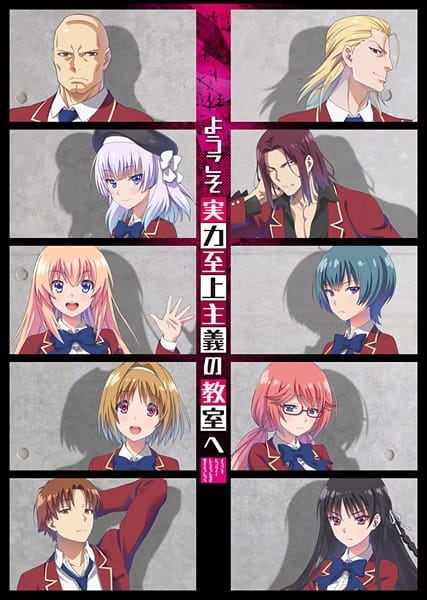 Aired: Jul 12, 2017 to Sep 27, 2017
Duration: 24 min. per ep.
Viewed: 35
Synonyms: Classroom of the Elite, Welcome to the Classroom of the Elite, ようこそ実力至上主義の教室へ
On the surface, Koudo Ikusei Senior High School is a utopia. The students enjoy an unparalleled amount of freedom, and it is ranked highly in Japan. However, the reality is less than ideal. Four classes, A through D, are ranked in order of merit, and only the top classes receive favorable treatment. Kiyotaka Ayanokouji is a student of Class D, where the school dumps its worst. There he meets the unsociable Suzune Horikita, who believes she was placed in Class D by mistake and desires to climb all the way to Class A, and the seemingly amicable class idol Kikyou Kushida, whose aim is to make as many friends as possible. While class membership is permanent, class rankings are not; students in lower ranked classes can rise in rankings if they score better than those in the top ones. Additionally, in Class D, there are no bars on what methods can be used to get ahead. In this cutthroat school, can they prevail against the odds and reach the top? [Written by MAL Rewrite]
Horikita, Suzune

Main

Kushida, Kikyou

Main

Ayanokouji, Kiyotaka

Main

Kusuda, Yukitsu

Supporting

Yukimura, Teruhiko

Supporting

Mashima, Tomoya

Supporting

Matsushita, Chiaki

Supporting

Miyake, Akito

Supporting

Ryuuen, Kakeru

Supporting

Sakagami, Kazuma

Supporting

Sakayanagi, Arisu

Supporting

Sakura, Airi

Supporting

Satou, Maya

Supporting

Shinohara, Satsuki

Supporting

Shiranami, Chihiro

Supporting

Sotomura, Hideo

Supporting

Sudou, Ken

Supporting

Tachibana, Akane

Supporting

Totsuka, Yahiko

Supporting

Wang, Mei Yu

Supporting
Comming soon!!! But still, you're very handsome.
Please comment for requesting this anime.