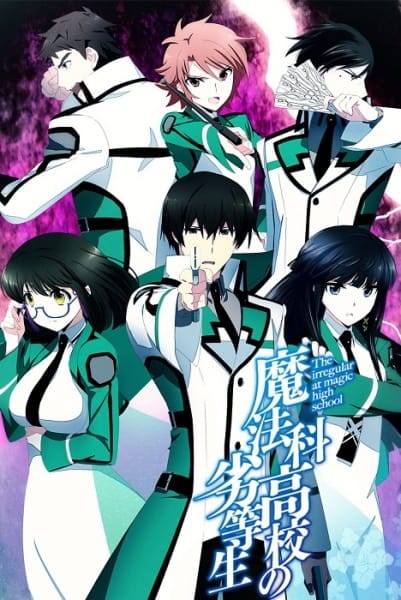 Aired: Apr 6, 2014 to Sep 28, 2014
Duration: 23 min. per ep.
Viewed: 208
Synonyms: Mahouka Koukou no Rettousei
In the dawn of the 21st century, magic, long thought to be folklore and fairy tales, has become a systematized technology and is taught as a technical skill. In First High School, the institution for magicians, students are segregated into two groups based on their entrance exam scores: "Blooms," those who receive high scores, are assigned to the First Course, while "Weeds" are reserve students assigned to the Second Course. Mahouka Koukou no Rettousei follows the siblings, Tatsuya and Miyuki Shiba, who are enrolled in First High School. Upon taking the exam, the prodigious Miyuki is placed in the First Course, while Tatsuya is relegated to the Second Course. Though his practical test scores and status as a "Weed" show him to be magically inept, he possesses extraordinary technical knowledge, physical combat capabilities, and unique magic techniques—making Tatsuya the irregular at a magical high school. [Written by MAL Rewrite]
Shiba, Miyuki

Main

Shiba, Tatsuya

Main

Xiangshan, Chen

Supporting

Mitsui, Honoka

Supporting

Watanabe, Mari

Supporting

Shiba, Sayuri

Supporting

Shiba, Tatsurou

Supporting

Sekimoto, Isao

Supporting

Sawaki, Midori

Supporting

Satomi, Subaru

Supporting

Sanada, Shigeru

Supporting

Saijou, Leonhart

Supporting

Saegusa, Mayumi

Supporting

Pixie

Supporting

Otowa

Supporting

Ono, Haruka

Supporting

Okada

Supporting

Nakajou, Azusa

Supporting

Morisaki, Shun

Supporting

Zhou, Gongjin

Supporting
Because we are making use of some free resources to reduce the main server load, the player can be opened on another domain or showed as a new tab (you have to allow pop-up if you're not using Chrome).