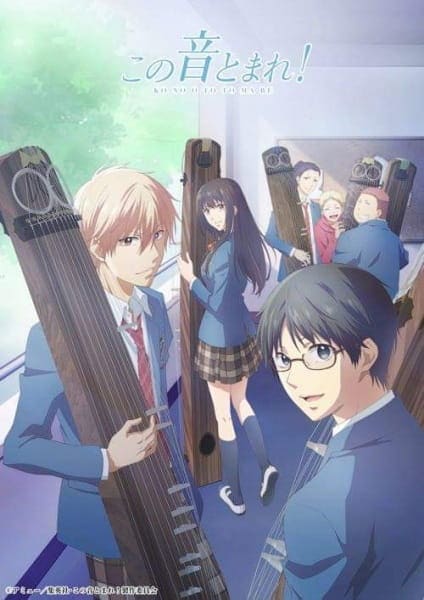 Aired: Apr 7, 2019 to Jun 30, 2019
Duration: 23 min. per ep.
Viewed: 64
Synonyms: Kono Oto Tomare!
Gen Kudou, a koto maker, believes that his delinquent grandson Chika would never understand the profoundness of the traditional musical instrument. In an attempt to make up for his naivety and understand the words of his late grandfather, Chika tries to join the Tokise High School Koto Club. Even though the club is in dire need of members, new club president Takezou Kurata is unwilling to easily accept Chika's application due to his bad reputation. Nonetheless, after seeing Chika's seriousness and enthusiasm, Takezou allows the problem child to join, along with koto prodigy Satowa Houzuki and three of Chika's energetic friends. Kono Oto Tomare! follows the merry band of musicians as they aspire to play at the national competition. [Written by MAL Rewrite]
Adachi, Saneyasu

Main

Houzuki, Satowa

Main

Kudou, Chika

Main

Kurata, Takezou

Main

Kurusu, Hiro

Main

Mizuhara, Kouta

Main

Sakai, Michitaka

Main

Takinami, Suzuka

Main

Houzuki, Chiharu

Supporting

Kanzaki, Mio

Supporting

Kudou, Isaki

Supporting

Kudou, Gen

Supporting

Ootori, Kazusa

Supporting

Ousuke, Kiriyuu

Supporting

Takaoka, Tetsuki

Supporting
Because we are making use of some free resources to reduce the main server load, the player can be opened on another domain or showed as a new tab (you have to allow pop-up if you're not using Chrome).