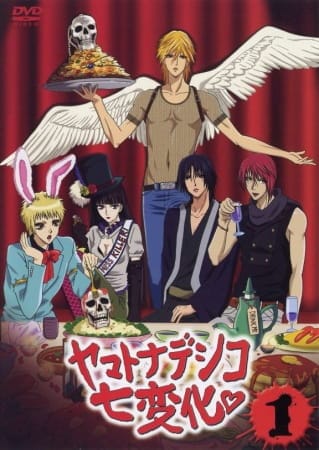 Aired: Oct 4, 2006 to Mar 28, 2007
Duration: 24 min. per ep.
Viewed: 1911
Synonyms: Yamato Nadeshiko Shichi Henge
Ever since her crush rejected her by insulting her appearance, Sunako Nakahara has been a shut-in with a hatred for beauty, embracing all things morbid and occult-related. She is sent to live in her aunt's mansion which, to her dismay, she'll share with four exceedingly handsome boys her age. Furthermore, her flighty aunt has made a deal with these boys that in exchange for living there rent-free, they are to turn Sunako into a proper lady by the time she returns from a trip around the world. Thus begins Sunako's hectic life with abrasive Kyohei Takano, ladies' man Ranmaru Morii, calm Takenaga Oda, and friendly Yukinojo Toyama. As she interacts with them she finds them less obnoxious, and she may not be as much of an outcast as she thought. [Written by MAL Rewrite]
Because we are making use of some free resources to reduce the main server load, the player can be opened on another domain or showed as a new tab (you have to allow pop-up if you're not using Chrome).