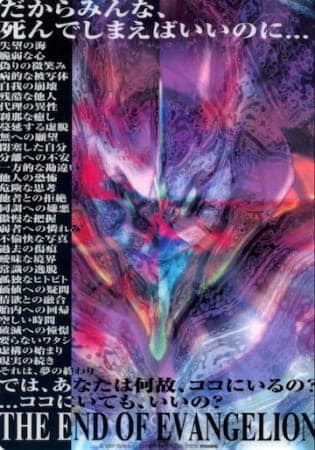 Aired: Jul 19, 1997
Duration: 1 hr. 27 min.
Viewed: 37
Synonyms: Neon Genesis Evangelion: The End of Evangelion, Shinseiki Evangelion Gekijouban: The End of Evangelion, 新世紀エヴァンゲリオン劇場版 THE END OF EVANGELION
With the final Angel vanquished, Nerv has one last enemy left to face—the humans under Seele's command. Left in a deep depression nearing the end of the original series, an indecisive Shinji Ikari struggles with the ultimatum presented to him: to completely accept mankind's existence, or renounce humanity's individuality. Meanwhile, at the core of a compromised Nerv, Gendou Ikari and Rei Ayanami approach Lilith in an attempt to realize their own ideals concerning the future of the world. The End of Evangelion serves as an alternate ending to the polarizing final episodes of Neon Genesis Evangelion. With the fate of the universe hanging in the balance, the climactic final battle draws near. [Written by MAL Rewrite]
Ayanami, Rei

Main

Ikari, Shinji

Main

Katsuragi, Misato

Main

Souryuu, Asuka Langley

Main

Akagi, Ritsuko

Supporting

Aoba, Shigeru

Supporting

Fuyutsuki, Kohzou

Supporting

Hyuuga, Makoto

Supporting

Ibuki, Maya

Supporting

Ikari, Yui

Supporting

Ikari, Gendou

Supporting

Kaji, Ryouji

Supporting

Lorentz, Keel

Supporting

Nagisa, Kaworu

Supporting

Pen Pen

Supporting

Souryuu, Kyoko Zeppelin

Supporting
Comming soon!!! But still, you're very handsome.
Please comment for requesting this anime.