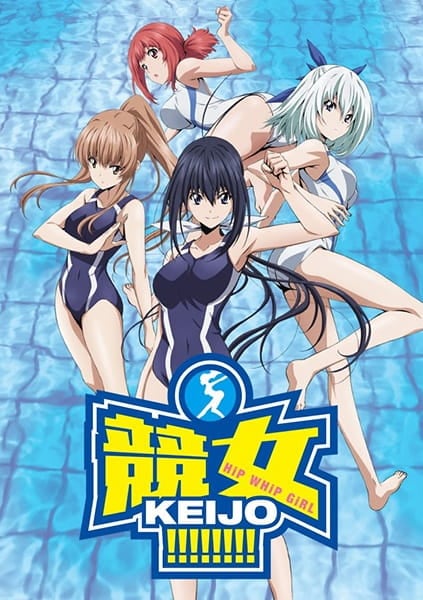 Aired: Oct 6, 2016 to Dec 22, 2016
Duration: 23 min. per ep.
Viewed: 600
Synonyms: Keijo!!!!!!!!
Japan's latest competitive sport, keijo, is dictated by a simple set of rules: female-only participants must stand on circular platforms floating in a pool—referred to as "lands"—with the goal being to knocking off opponents using only their breasts and butts. Despite this outlandish premise, the sport attracts millions of viewers across the country and boasts a lavish prize pool. Many aspiring athletes take up the challenge in hopes of becoming the next national champion. After graduating from high school, the lively 17-year-old Nozomi Kaminashi enters the world of keijo, hoping to bring home a fortune to her poor family. As a gifted gymnast, Nozomi quickly proves herself a tough competitor after stealing the spotlight in her debut tournament. Meeting new friends and rivals as she climbs the ranks, Nozomi discovers that the path to stardom as a keijo player is filled with intense competition that will challenge not only her body, but also her soul. [Written by MAL Rewrite]
Kaminashi, Nozomi

Main

Miyata, Sayaka

Main

Toyoguchi, Non

Main

Aoba, Kazane

Main

Yoshida, Atsuko

Supporting

Yamikumo, Sachiko

Supporting

Ujibe, Nagisa

Supporting

Tsukishita, Usagi

Supporting

Shirayuki, Kyoko

Supporting

Shiomi, Satomi

Supporting

Sakashiro, Maya

Supporting

Rokudou, Rin

Supporting

Oshima, Yuko

Supporting

Nanase, Nami

Supporting

Muromachi, Hikari

Supporting

Kusakai, Mio

Supporting

Kurogiri, Ayase

Supporting

Kogatana, Saya

Supporting

Kobayakawa, Miku

Supporting

Kawai, Hanabi

Supporting
Because we are making use of some free resources to reduce the main server load, the player can be opened on another domain or showed as a new tab (you have to allow pop-up if you're not using Chrome).