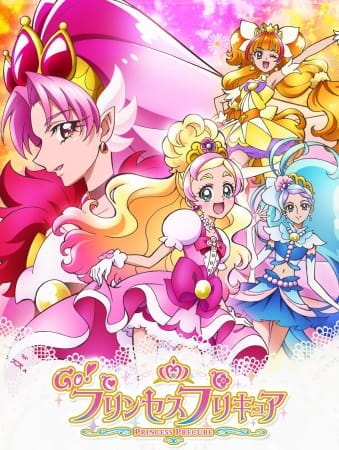 Once upon a time, there was a little girl who desperately wanted to become a princess just like the ones in her picture book. Other children made fun of her childish wishes, but she never stopped believing. One day, a boy who looked like a prince appeared, asking her if she would like to be a princess. He gave the girl magical charm to make her wish come true. That little girl, Haruka Haruno, is now a thirteen-year-old attending Noble Academy, a junior high boarding school. Her school life is interrupted by two fairies, Pafu and Aroma, who give her a Princess Perfume, which mysteriously matches the charm she was given eight years ago! Turns out, Haruka is one of the Princess Precures, and must team up with Cure Mermaid and Cure Twinkle in Go! Princess Precure in order to defeat the dark witch Dyspear before she brings the the Hope Kingdom and Haruka's world to a nightmareish end!
Aired: Feb 1, 2015 to Jan 31, 2016
Duration: 24 min. per ep.
Synonyms: Go! Princess Precure
Amanogawa, Kirara

Main

Haruno, Haruka

Main

Kaidou, Minami

Main

Akagi, Towa

Main

Yuuki, Aihara

Supporting

Yura

Supporting

Stop

Supporting

Shut

Supporting

Shamour, Miss

Supporting

Sei

Supporting

Puff

Supporting

Nishimine, Ayaka

Supporting

Nanase, Yui

Supporting

Lock

Supporting

Kanata

Supporting

Ichijou, Ranko

Supporting

Hope Kingdom's Queen

Supporting

Haruno, Momoka

Supporting

Freeze

Supporting

Dyspear

Supporting
Because we are making use of some free resources to reduce the main server load, the player can be opened on another domain or showed as a new tab (you have to allow pop-up if you're not using Chrome).