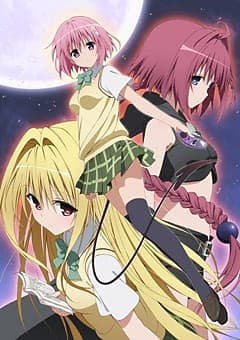 Aired: Oct 6, 2012 to Dec 29, 2012
Duration: 23 min. per ep.
Viewed: 723
Synonyms: To LOVE-Ru Darkness
As close encounters of the twisted kind between the residents of the planet Develuke (represented primarily by the female members of the royal family) and the inhabitants of Earth (represented mainly by one very exhausted Rito Yuki) continue to escalate, the situation spirals even further out of control. When junior princesses Nana and Momo transferred into Earth School where big sister LaLa can (theoretically) keep an eye on them, things SHOULD be smooth sailing. But when Momo decides she'd like to "supplement" Rito's relationship with LaLa with a little "sisterly love," you know LaLa's not going to waste any time splitting harems. Unfortunately, it's just about that point that Yami, the Golden Darkness, enters the scene with all the subtleness of a supernova, along with an army of possessed high school students! All of which is certain to make Rito's life suck more than a black hole at the family picnic. Unless, of course, a certain semi-demonic princess can apply a little of her Develukean Whoop Ass to exactly that portion of certain other heavenly bodies! (Source: Sentai Filmworks)
Konjiki no Yami

Main

Kurosaki, Mea

Main

Yuuki, Rito

Main

Deviluke, Momo Belia

Main

Zastin

Supporting

Yuuki, Mikan

Supporting

Tenjouin, Saki

Supporting

Sawada, Mio

Supporting

Saruyama, Kenichi

Supporting

Sairenji, Haruna

Supporting

Principal

Supporting

Peke

Supporting

Nitta, Haruko

Supporting

Nemesis

Supporting

Nakajima

Supporting

Murasame, Shizu

Supporting

Momioka, Risa

Supporting

Mikado, Ryouko

Supporting

Lunatique, Tearju

Supporting

Kujou, Rin

Supporting
Because we are making use of some free resources to reduce the main server load, the player can be opened on another domain or showed as a new tab (you have to allow pop-up if you're not using Chrome).