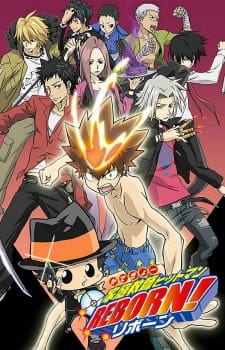 Aired: Oct 7, 2006 to Sep 25, 2010
Duration: 24 min. per ep.
Viewed: 41
Synonyms: Reborn!, Kateikyoushi Hitman Reborn!, Home Tutor Hitman Reborn!, 家庭教師ヒットマンREBORN!
There is no putting it lightly—Tsunayoshi Sawada is just no good. He is clumsy, talentless, and desperately in love with the school idol Kyouko Sasagawa, a girl so completely out of his league. Dubbed "Loser Tsuna" by his classmates, he seems to be the very personification of failure in the guise of a middle-schooler. Tsuna's boring life takes an extraordinary twist when he encounters the mysterious Reborn, who happens to be a hitman... and shockingly, a baby! Sent from the strongest Mafia family in Italy, Reborn is assigned the daunting mission of preparing the dull middle schooler to succeed the ninth boss of the notorious Vongola family, who is on the brink of retirement. The dull boy has a grueling road ahead, but with the help of his new criminal affiliates and his peculiar home tutor, perhaps even Loser Tsuna can achieve greatness. [Written by MAL Rewrite]
Dokuro, Chrome

Main

Gokudera, Hayato

Main

Hibari, Kyouya

Main

Lambo

Main

Reborn

Main

Rokudou, Mukuro

Main

Sasagawa, Ryouhei

Main

Sawada, Tsunayoshi

Main

Yamamoto, Takeshi

Main

Gyuudon

Supporting

Hepburn, Iris

Supporting

Hibird

Supporting

I-Pin

Supporting

Irie, Shouichi

Supporting

Ivan

Supporting

Jirou

Supporting

Joshima, Ken

Supporting

Kakimoto, Chikusa

Supporting

Kawahira, Uncle

Supporting

Kikyou

Supporting
Comming soon!!! But still, you're very handsome.
Please comment for requesting this anime.