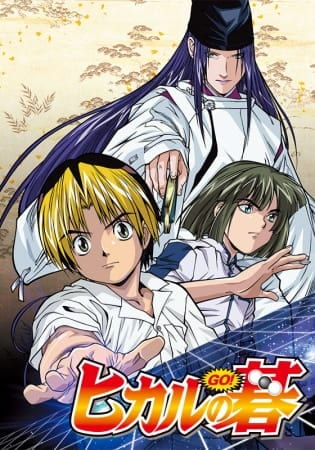 Aired: Oct 10, 2001 to Mar 26, 2003
Duration: 23 min. per ep.
Viewed: 25
Synonyms: Hikaru no Go, Hikaru's Go, ヒカルの碁
12-year-old Shindou Hikaru is just your average 6th grader. One day, while searching through his grandfather's attic, he comes across an old Go board. Upon touching the Go board, Hikaru is possessed by the spirit of Fujiwara no Sai, and continues to be haunted by him soon after. Sai was once a great Go player, who committed suicide and continued to stay in the world as a spirit desiring only to play Go once again. Finally bending to Sai's pleas, Hikaru allows Sai to play Go through himself, unknowingly attempting the first game with the young prodigy Touya Akira. Time has finally started moving, as Sai's quest for the perfect game, "The Hand of God", is set underway. Based on the manga by Yumi Hotta and Takeshi Obata.
Fujiwara no, Sai

Main

Shindou, Hikaru

Main

Touya, Akira

Main

Tsubaki, Toshirou

Supporting

Tsutsui, Kimihiro

Supporting

Waya, Yoshitaka

Supporting

Yang, Hai

Supporting

Dake-san

Supporting

Fujisaki, Akari

Supporting

Fukui, Yuta

Supporting

Honda, Toshinori

Supporting

Hong, Suyong

Supporting

Ijima, Ryou

Supporting

Isumi, Shinichiro

Supporting

Kaga, Tetsuo

Supporting

Kishimoto, Kaoru

Supporting

Kurata, Atsushi

Supporting

Kuwabara, Honinbou

Supporting

Mashiba, Mitsura

Supporting

Mitani, Yuki

Supporting
Comming soon!!! But still, you're very handsome.
Please comment for requesting this anime.