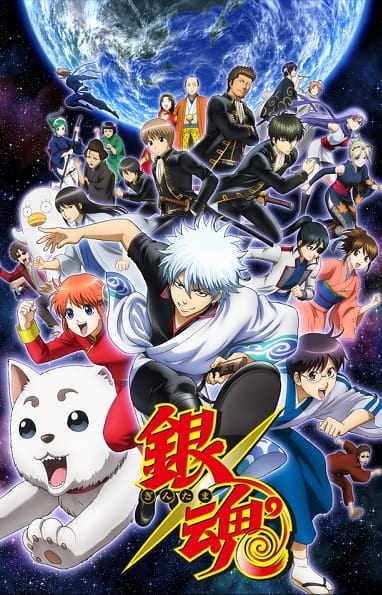 Aired: Apr 8, 2015 to Mar 30, 2016
Duration: 24 min. per ep.
Viewed: 11570
Synonyms: Gintama' (2015)
Gintoki, Shinpachi, and Kagura return as the fun-loving but broke members of the Yorozuya team! Living in an alternate-reality Edo, where swords are prohibited and alien overlords have conquered Japan, they try to thrive on doing whatever work they can get their hands on. However, Shinpachi and Kagura still haven't been paid... Does Gin-chan really spend all that cash playing pachinko? Meanwhile, when Gintoki drunkenly staggers home one night, an alien spaceship crashes nearby. A fatally injured crew member emerges from the ship and gives Gintoki a strange, clock-shaped device, warning him that it is incredibly powerful and must be safeguarded. Mistaking it for his alarm clock, Gintoki proceeds to smash the device the next morning and suddenly discovers that the world outside his apartment has come to a standstill. With Kagura and Shinpachi at his side, he sets off to get the device fixed; though, as usual, nothing is ever that simple for the Yorozuya team. Filled with tongue-in-cheek humor and moments of heartfelt emotion, Gintama's fourth season finds Gintoki and his friends facing both their most hilarious misadventures and most dangerous crises yet. [Written by MAL Rewrite]
Sakata, Gintoki

Main

Shimura, Shinpachi

Main

Kagura

Main

Oboro

Supporting

Shachi

Supporting

Rotten, Maizou

Supporting

Otose

Supporting

Okita, Sougo

Supporting

Murata, Tetsuko

Supporting

Momochi, Rappa

Supporting

Yoshida, Shouyou

Supporting

Mutsu

Supporting

Sadaharu

Supporting

Saitou, Shimaru

Supporting

Sakamoto, Tatsuma

Supporting

Sarutobi, Ayame

Supporting

Sasaki, Tetsunosuke

Supporting

Sasaki, Isaburou

Supporting

Seita

Supporting

Matsudaira, Katakuriko

Supporting
Because we are making use of some free resources to reduce the main server load, the player can be opened on another domain or showed as a new tab (you have to allow pop-up if you're not using Chrome).