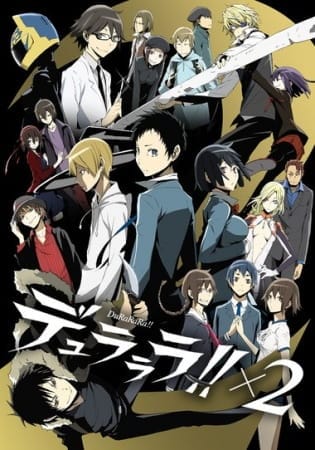 Aired: Jan 10, 2015 to Mar 28, 2015
Duration: 24 min. per ep.
Viewed: 3
Synonyms: Durarara!! x2 Shou, Durarara!! 2nd Season, DRRR!! 2nd Season, Durararax2 1st Arc, デュラララ!!×2 承
Although peace has finally returned to Ikebukuro, many of the odd occurrences have become common sights around the city. One such case is the police's constant pursuit of Celty Sturluson, the Headless Rider. Moreover, someone has placed a large bounty on her, igniting the motivation of gang members all over to begin searching for the supernatural creature as well. Meanwhile, Mikado Ryuugamine is approached by Aoba Kuronuma, a mysterious underclassman with unknown intentions, who reveals that he knows Mikado's true identity. But Ikebukuro's state of tranquility is short-lived, as a new threat appears in the form of a murderer who goes by the pseudonym "Hollywood," known for wearing a different mask each time they commit a crime. As the various events taking place prove to be connected yet again, Ikebukuro is thrown into another conflict that threatens to engulf the entire city in chaos. [Written by MAL Rewrite]
Kishitani, Shinra

Main

Orihara, Izaya

Main

Ryuugamine, Mikado

Main

Sonohara, Anri

Main

Sturluson, Celty

Main

Heiwajima, Shizuo

Main

Mikajima, Saki

Supporting

Orihara, Mairu

Supporting

Manaka

Supporting

Mitsukuri

Supporting

Kuronuma, Aoba

Supporting

Kiyomin

Supporting

Yumasaki, Walker

Supporting

Kuzuhara, Kinnosuke

Supporting

Morita

Supporting

Neko

Supporting

Nitari (Older Brother)

Supporting

Nitari (Younger Brother)

Supporting

Non

Supporting

Kishitani, Emilia

Supporting
Comming soon!!! But still, you're very handsome.
Please comment for requesting this anime.