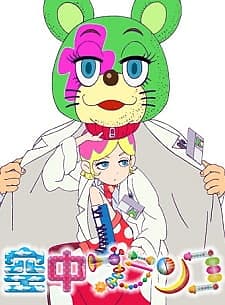 Aired: Oct 15, 2009 to Dec 24, 2009
Duration: 23 min. per ep.
Viewed: 15
Synonyms: Kuuchuu Buranko
Many patients with different problems visit the psychiatric ward of Irabu General Hospital; a trapeze artist suffering from insomnia after suddenly failing his jumps, a gangster afraid of knives and sharp objects and a business man who has an erection 24 hours a day. They undergo counseling by Dr. Ichiro Irabu, who is the child-like son of the hospital director. His assistant is the sullen faced sexy nurse Mayumi. With his mysterious injections, and advice that does not make sense, Dr. Irabu confuses his patients. But at the end of his unique treatments, the patients are led to digging further into their souls to find peace of mind. (Source: fujicreative.co.jp)
Irabu, Ichirou

Main

Bandou, Shinichi

Supporting

Fukui

Supporting

Hoshiyama, Junichi

Supporting

Ikeyama, Tatsurou

Supporting

Ino, Seiji

Supporting

Iwamura, Yoshio

Supporting

Mayumi

Supporting

Taguchi, Tetsuya

Supporting

Tanabe, Mitsuo

Supporting

Tsuda, Yuuta

Supporting

Tsuda, Hideo

Supporting

Yamashita, Kouhei

Supporting

Yasukawa, Hiromi

Supporting
Because we are making use of some free resources to reduce the main server load, the player can be opened on another domain or showed as a new tab (you have to allow pop-up if you're not using Chrome).