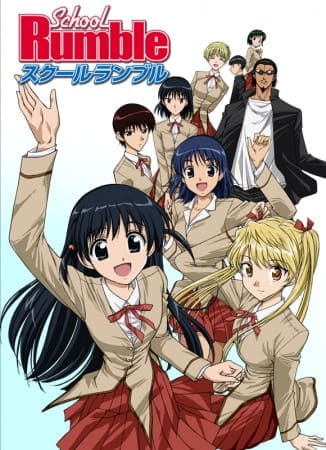 Aired: Oct 5, 2004 to Mar 29, 2005
Duration: 23 min. per ep.
Viewed: 21
Synonyms: School Rumble, スクールランブル
Just the words "I love you," and everything changes—such is the nature of the bittersweet trials of high school romance. Tenma Tsukamoto, a second year, is on a quest to confess her feelings to the boy she likes. Kenji Harima, a delinquent with a sizable reputation, is in a similar situation, as he cannot properly convey his feelings to the one he loves. Between school, friends, rivalries, and hobbies, these two will find that high school romance is no walk in the park, especially as misunderstandings further complicate their plight. School Rumble is a high-octane romantic comedy full of relatable situations, as Tenma and Kenji both try to win the hearts of those they desire. [Written by MAL Rewrite]
Karasuma, Ouji

Main

Sawachika, Eri

Main

Suou, Mikoto

Main

Takano, Akira

Main

Tsukamoto, Yakumo

Main

Tsukamoto, Tenma

Main

Harima, Kenji

Main

Yakushamaru, Kouji

Supporting

Nara, Kentaro

Supporting

Sasakura, Youko

Supporting

Sailor F

Supporting

Sagano, Megumi

Supporting

Saeko

Supporting

Ryuu, Nenji

Supporting

Pyotr

Supporting

Osakabe, Itoko

Supporting

Ootsuka, Mai

Supporting

Ootani, Iwashi

Supporting

Nishimoto, Ganji

Supporting

Yuuki, Tsumugi

Supporting
Comming soon!!! But still, you're very handsome.
Please comment for requesting this anime.