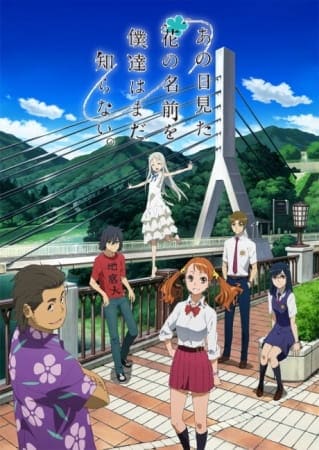 Aired: Apr 15, 2011 to Jun 24, 2011
Duration: 22 min. per ep.
Viewed: 214
Synonyms: Anohana
Jinta Yadomi is peacefully living as a recluse, spending his days away from school and playing video games at home instead. One hot summer day, his childhood friend, Meiko "Menma" Honma, appears and pesters him to grant a forgotten wish. He pays her no mind, which annoys her, but he doesn't really care. After all, Menma already died years ago. At first, Jinta thinks that he is merely hallucinating due to the summer heat, but he is later on convinced that what he sees truly is the ghost of Menma. Jinta and his group of childhood friends grew apart after her untimely death, but they are drawn together once more as they try to lay Menma's spirit to rest. Re-living their pain and guilt, will they be able to find the strength to help not only Menma move on—but themselves as well? [Written by MAL Rewrite]
Anjou, Naruko

Main

Hisakawa, Tetsudou

Main

Honma, Meiko

Main

Matsuyuki, Atsumu

Main

Tsurumi, Chiriko

Main

Yadomi, Jinta

Main

Aki

Supporting

Anjou, Mother

Supporting

Haruna

Supporting

Honma, Satoshi

Supporting

Honma, Manabu

Supporting

Honma, Irene

Supporting

Minako

Supporting

Yadomi, Touko

Supporting

Yadomi, Atsushi

Supporting

Yama

Supporting
Because we are making use of some free resources to reduce the main server load, the player can be opened on another domain or showed as a new tab (you have to allow pop-up if you're not using Chrome).