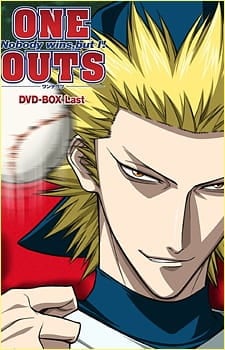 Aired: Oct 8, 2008 to Apr 1, 2009
Duration: 23 min. per ep.
Viewed: 772
Synonyms: One Outs
Toua Tokuchi is an athlete by profession, but a reckless gambler at heart. On the streets of Okinawa, he uses nothing but his wits and a "fastball" peaking at a mere 134 kmph to somehow achieve 499 wins in the game of "One Outs," a simplified version of baseball between the pitcher and one batter. Amazed by Toua's unique prowess on the mound, veteran slugger Hiromichi Kojima artfully scouts the pitcher for his long unsuccessful team, the Saikyou Saitama Lycaons. Kojima desperately hopes Toua will lead them to the championship; however, Tsuneo Saikawa, the mercenary owner of the Lycaons, sees the vastly talented pitcher as a threat to the income generated by the team. Rising to the challenge of swaying the owner, Toua suggests a one-of-a-kind "One Outs" contract: every out Toua pitches will earn him five million yen, but with every run he gives up, he will lose fifty million yen. Adapted from the manga by Shinobu Kaitani of Liar Game fame, One Outs documents the intense psychological battles between Toua and those around him. With millions of yen at stake, can a pitcher who has done nothing but gamble in a head-to-head imitation of baseball finally lead a real baseball team to victory? [Written by MAL Rewrite]
Kojima, Hiromichi

Main

Tokuchi, Toua

Main

Ideguchi, Satoshi

Main

Nakane

Supporting

Yoshida

Supporting

Narrator

Supporting

Nishimura, Kyousuke

Supporting

Oikawa, Mitsuo

Supporting

Rodrigo, Pedro

Supporting

Saikawa, Tsuneo

Supporting

Sawamura

Supporting

Shirooka, Katsurou

Supporting

Shirooka, Takashi

Supporting

Takami, Itsuki

Supporting

Tendou, Tetsuharu

Supporting

Thomas

Supporting

Williams, Scott

Supporting

Mizuhashi, Shinji

Supporting

Mihara, Yuuzaburou

Supporting

Kira, Nobumitsu

Supporting
Because we are making use of some free resources to reduce the main server load, the player can be opened on another domain or showed as a new tab (you have to allow pop-up if you're not using Chrome).